Confidence, angles key to Ottavino's success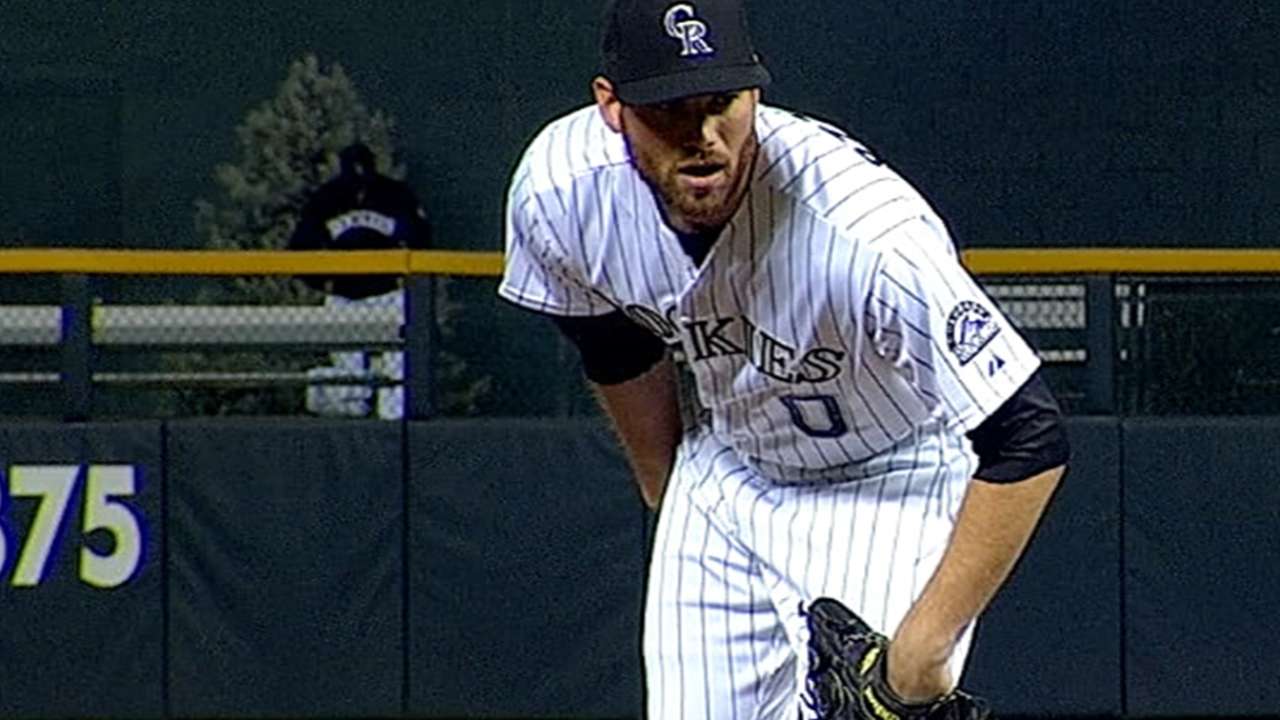 LOS ANGELES -- The Rockies' Adam Ottavino finds amusing that a right-handed reliever and his best pitch can have social media cachet.
Earlier this season, a tribute handle, @OttavinosSlider, showed up on Twitter. During his strong inning Friday night, the team's twitter account gave him a hashtag -- #Ottomatic, which happens to have been a nickname he earned as a closer during his collegiate career at Northeastern University.
Ottavino, an Instagram guy himself, isn't bothered by the attention. After all, it's the result of an ERA that was the definition of the empty set through 11 games, the last being a one-strikeout eighth inning in Friday's 5-4, 11-inning victory over the Dodgers.
"It's pretty cool," he said. "Obviously, I've got to keep it up. It's kind of neat."
Ottavino, 28, entered the Rockies' game with the Dodgers on Saturday with 13 strikeouts, which is almost half of his 28 total outs.
As last season progressed, manager Walt Weiss began using Ottavino later in games, mostly against tough right-handed hitters, who have difficulty dealing with his slider's angle and movement. Righties hit .198 against him. However, lefty batters hit .325, which more or less threatened to limit him to specialist duty.
This year, Ottavino, whose father has long worked as an actor in New York, is posting stats that say he can't be typecast. Righties are 4-for-27 (.148), with two of the hits coming in one game. But lefties are 1-for-8 (.125).
"He's made adjustments against left-handed hitters, so if there's a tough lefty sandwiched in between a couple of right-handers, he can go through the lefty to get to the next righty," Weiss said. "He's made some physical adjustments to attacking left-handed hitters."
Ottavino's adjustment involves the uncommon strategy of switching from the third-base side of the rubber, where he works against righties, to the first-base side against lefties. The adjustment resulted from Ottavino studying all of his at-bats against lefties during the offseason.
"It's giving them a little tougher angle," Ottavino said. "And my strategy has been switched up a little. It's worked out against the few lefties I have faced. That was a big goal for me. I killed righties last year, so if I could become respectable against lefties, I could improve over last year."
Ottavino is known for the sudden and big, downward diagonal break on his slider. But his increased dependability is rooted in another pitch.
"My slider is the same as it was, although I feel I use it better," Ottavino said. "But I feel a little stronger this year and my fastball is a little better. I've got a little bit more velocity, a mile or two per hour on average. I also know my strategy better of where to locate it."
Weiss said the increased power is a matter of confidence.
"He's always had the devastating slider, but it's tough to use it when you're in bad counts," Weiss said. "His fastball command and velocity is better. That's a big part of it.
"A couple years ago, before I was here, his velocity was up there. Last year, maybe trying to command it, pitchers will take a little off of it. But he's got velocity and command, and a lot of confidence. When he gets in pitchers' counts, he's a handful."
Thomas Harding is a reporter for MLB.com. Read his blog, Hardball in the Rockies, and follow him on Twitter @harding_at_mlb. This story was not subject to the approval of Major League Baseball or its clubs.