Elbow strain sends Chatwood to DL; Bettis recalled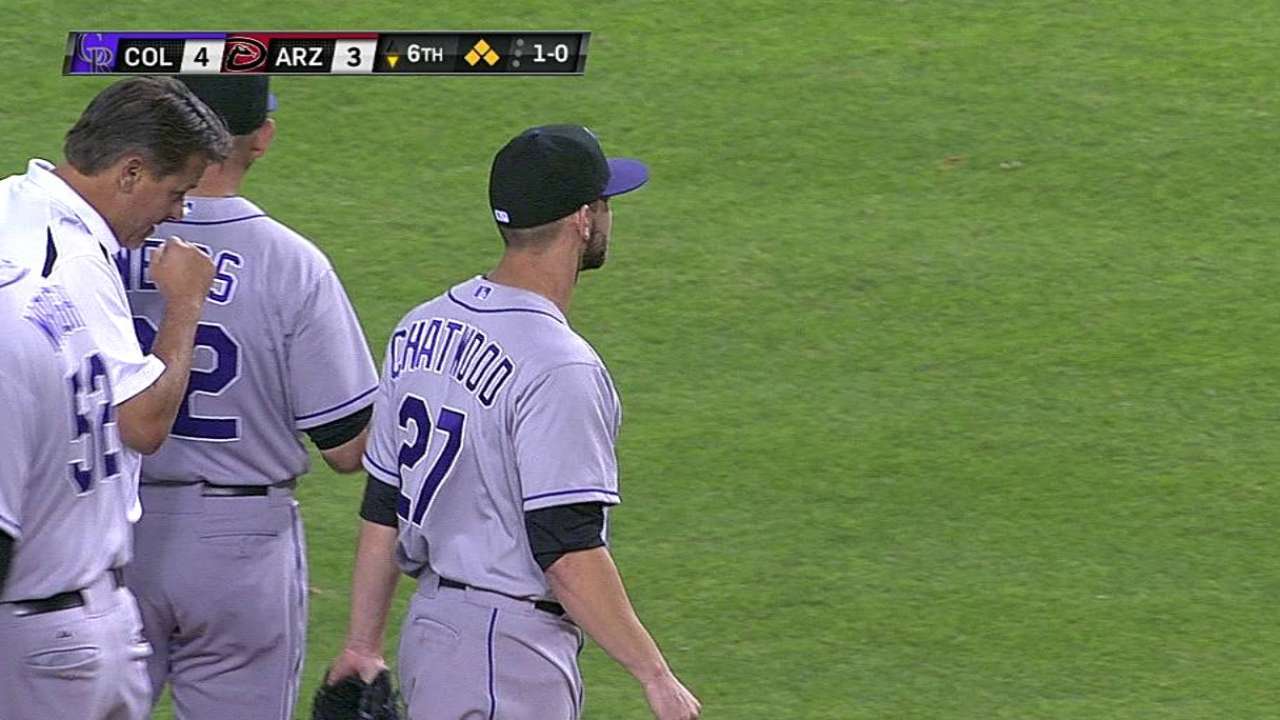 PHOENIX -- The Rockies placed right-hander Tyler Chatwood on the 15-day disabled list with a right elbow strain Wednesday afternoon.
Chatwood was removed from Tuesday night's game at Chase Field with the bases loaded and none out in the sixth inning because of tightness in the elbow. The club is waiting on the results of Wednesday morning's MRI.
"It was real tight under my flexor tendon, and in the sixth inning, in my warm-up pitches, I could barely get the ball to home plate," Chatwood said. "So I should have known then, but I tried to go through it and wasn't able to control the ball or anything."
In the eventful sixth, Chatwood walked Aaron Hill, gave up single to Eric Chavez and walked A.J. Pollock to load the bases. Rockies trainers and manager Walt Weiss went to the mound and removed Chatwood in favor of right-hander Chris Martin after throwing ball one to Chris Owings.
"It was nothing more than normal soreness, it just got worse as the game went on last night," Chatwood said.
The club recalled right-hander Chad Bettis from Triple-A Colorado Springs to take Chatwood's place on the roster. Bettis was on the Opening Day roster and went 0-1 with a 7.15 ERA in 11 games before he was optioned to Triple-A on April 25.
"It's a shame something like that happened to [Chatwood], and it's something you never wish on anybody," Bettis said. "But that's where we're at right now. It's good to be back, but you never want to see one of your guys go down."
Chatwood, who is 1-0 with a 4.50 ERA this year, was placed on the disabled list earlier this season because of a strained left hamstring suffered while running the bases during the final Spring Training game in Arizona.
"I'm concerned about him," Weiss said. "Anytime a pitcher has to come out of a game because of an elbow, it's a concern. His elbow is tight and it was obvious that he was not going to be able to make his next start."
Jesse Sanchez is a national reporter for MLB.com. Follow him on Twitter @JesseSanchezMLB. This story was not subject to the approval of Major League Baseball or its clubs.