CarGo joining in Rockies' hit parade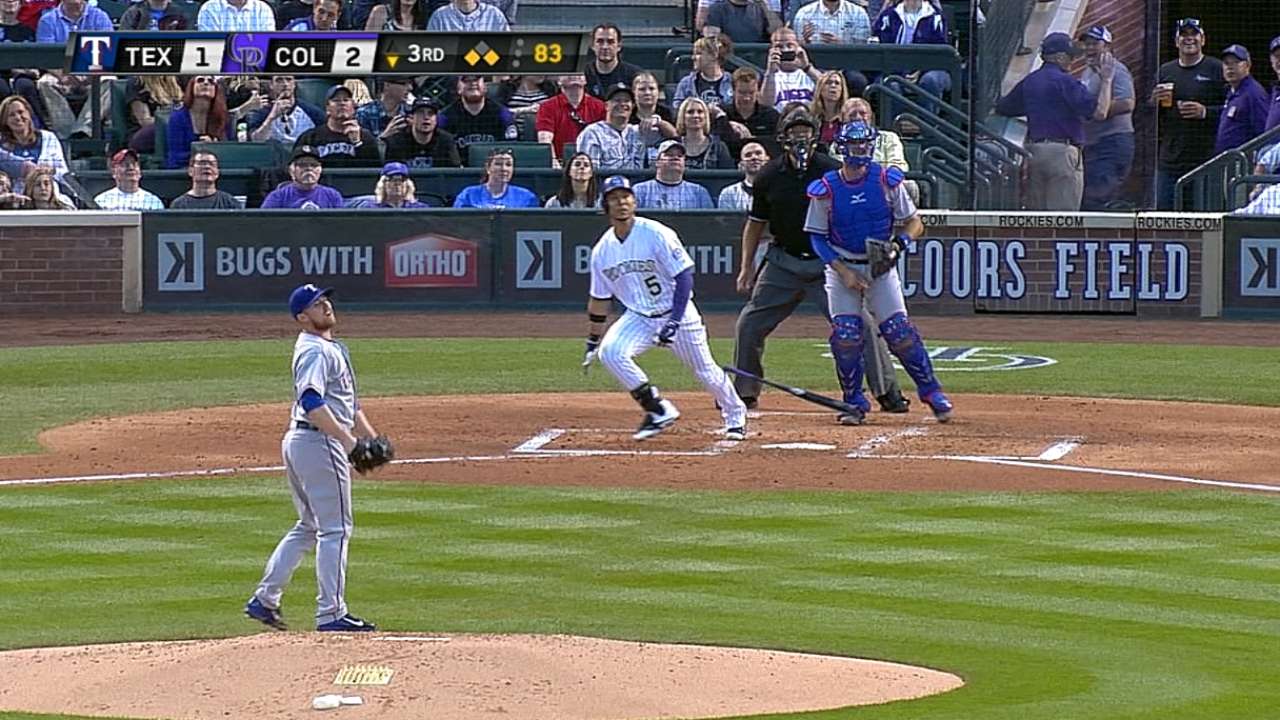 ARLINGTON -- Rockies left fielder Carlos Gonzalez struggled for hits and through bumps and bruises for the better part of three weeks, yet found the experience oddly liberating.
The going wisdom has been the Rockies need Gonzalez and Troy Tulowitzki hot and healthy or else it all falls apart. Well, Gonzalez's batting average was at .232 through April 28, yet the Rockies were fine. Lately, Gonzalez has joined the rest of the Rockies, having knocked two doubles on Monday and gone 5-for-5 with a double and three RBIs Tuesday in victories over the Rangers at Coors Field.
Gonzalez entered Wednesday night's game at Globe Life Park on an eight-game hit streak during which he hit .400 (14-for-35) with five doubles, two home runs and nine RBIs. He drew relaxation from knowing his slump didn't send the Rockies' season off the rails.
"It's been fun, and I haven't felt like this for a while -- the last time I felt like this was 2009," said Gonzalez, referring to the last time the Rockies went to the playoffs. "It's the feeling that you can win every game and it's not up to you. It's about everybody.
"It's nice to feel there's no finger pointed to me or to Tulo. When the team is going bad, it's like, 'Let's point the finger at CarGo and Tulo; Whatever they do, that's how the Rockies are going to do.'"
Of course, Tulowitzki has hit enough to make up for any slump, with a .421 average, nine homers and 30 RBIs going into Wednesday night. But with Nolan Arenado riding a long hit streak and six hitters at .311 or above in Wednesday's lineup, the Rockies have enough hitting, even with Michael Cuddyer out for nearly three weeks and counting with a left hamstring strain. Now with Gonzalez (.279, 6 HR, 24 RBIs) looking as if .300 and above are just around the corner, he can carry extra when inevitable slumps
As for how he dealt with the slump, Gonzalez said he didn't mess with his swing mechanics. Many baseball players drive themselves crazy seeking advice, which is plentiful from accomplished hitters and almost everyone else with a computer to study video or a stat program to analyze trends. Or they analyze themselves to confusion.
"My swing won't change because I've been swinging like that since I was 5." But he realized his leg kick was too quick and simply needed to keep swinging to find the timing. Behind his simple strategy was a unwavering belief he would hit.
"I've hit .200 before in months, then I know I can come and hit .500 in one month," Gonzalez said. "Baseball is a game of feelings, sometimes you feel bad and sometimes you feel good. But your mental part, you have to keep it the same. I believe in myself, and the numbers are going to show."
Of all the stats that can be placed on a hitter, the most telling may be this one. From the start of the slump with an 0-for-4 against the Giants on April 12, manager Walt Weiss has started Gonzalez in all but two games.
"For me, I watch their body language," Weiss said. "When I see them getting real frustrated or you see them get a little demoralized by the game, those are the times I try to give them a breather. But CarGo is such a happy-go-lucky guy and free spirit, he's always smiling, so it's tough to read into it.
"He's been working hard, like all players have to, and it looks like he's ready to take off."
Thomas Harding is a reporter for MLB.com. Read his blog, Hardball in the Rockies, and follow him on Twitter @harding_at_mlb. This story was not subject to the approval of Major League Baseball or its clubs.