CarGo's swollen finger acts up again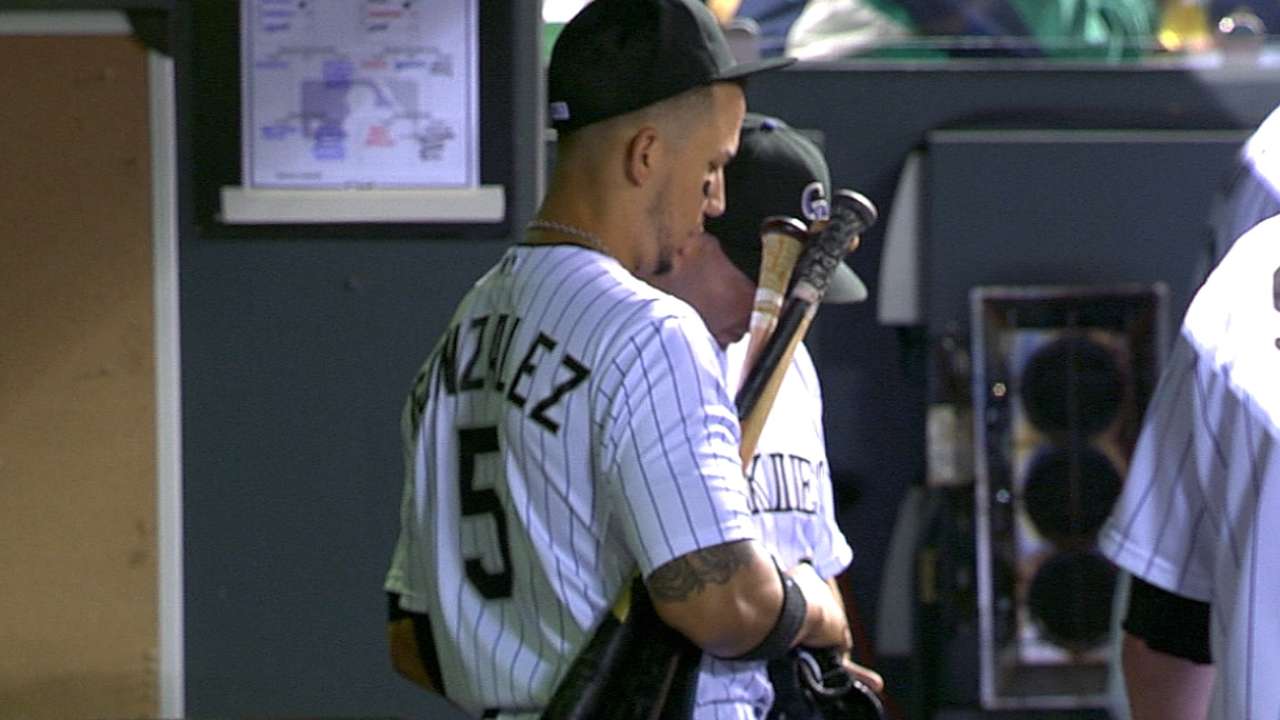 DENVER -- Rockies left fielder Carlos Gonzalez left Wednesday night's 5-1 loss to the Giants before the top of the eighth inning because of recurring inflammation of his left index finger, and his availability is day to day.
"The finger blew up on him again, so we'll take a look at him when he comes in the morning, but it's pretty swollen," Rockies manager Walt Weiss said.
Gonzalez, who was 0-for-2 with a walk before leaving the game with a .276 batting average, originally incurred the injury May 1 when fouling off a pitch, on an at-bat that finished with a home run. He missed one game, but since then, he has kept the finger taped.
On Wednesday, Gonzalez said the swelling began after his first at-bat. After his third plate appearance, he could not continue. He underwent X-rays, which didn't reveal any breaks. The Rockies will check the finger when he arrives for Thursday's finale of the three-game series with the Giants.
"It's just a weird injury," Gonzalez said. "I wish I had an answer that will tell me what's happening. I didn't hit the ball bad at all. But it got big and swollen.
"When it's swelling, it's hard because I can't squeeze my hand. I lose everything. I can't bend my finger, can't get a grip, so it's really hard to hit."
The injury is to his throwing hand, and gripping the ball is difficult as well.
This season has been full of bumps for Gonzalez, who has been playing through on-again, off-again flare-ups of tendinitis in his left knee. Gonzalez has seven home runs and 29 RBIs.
This year's finger injury is not as debilitating as last year's, when he tore a ligament in his right middle finger. He was hitting .304 with 24 home runs and 63 RBIs when he incurred last season's injury on July 7. He batted .291 but had just two homers and seven RBIs the rest of the way, missed 26 games in August and September and didn't play after Aug. 16.
Thomas Harding is a reporter for MLB.com. Follow him on Twitter @harding_at_mlb. This story was not subject to the approval of Major League Baseball or its clubs.