MLB.com Columnist
Terence Moore
Great throws are the greatest MLB moments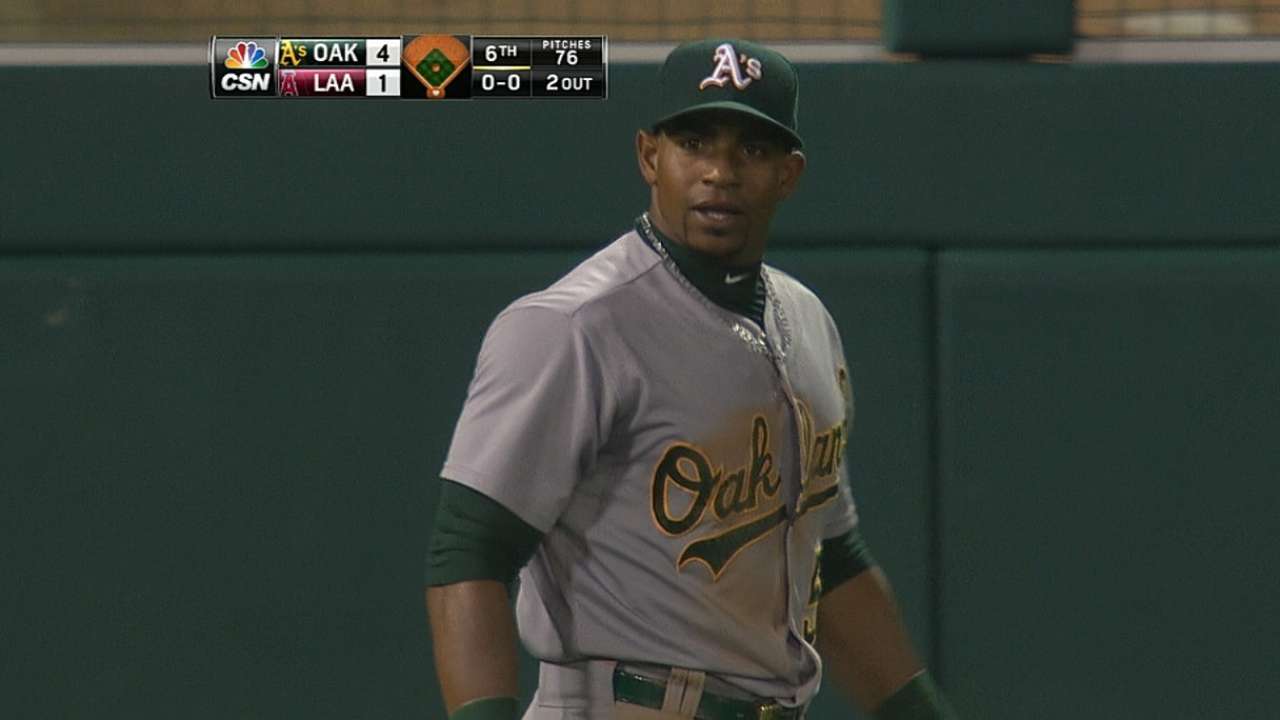 There is nothing more exhilarating in Major League Baseball than a great throw from an outfielder. It tops a hitter ripping a shot toward the farthest black hole or somebody swiping a base at the speed of light. Diving catches also are wonderful. The same goes for well-executed bunts in the clutch, tricky double plays and pitchers delivering strike three courtesy of splendid precision or fire traveling from their hand to home plate.
Give me that great throw from an outfielder, please.
In addition to The Catch, give me The Throw after Willie Mays grabbed the impossible over his head. Give me those rockets coming from Roberto Clemente out of his famous twirl in the corner of outfields. Give me Dave Parker capturing an All-Star MVP award when he secured victory for the National League with his arm instead of his bat, his glove or his legs.
So I'm still rubbing my eyes over the A's Yoenis Cespedes delivering a 300-foot throw this week from the left-field corner of his home ballpark in Oakland to nail the Angels' Howie Kendrick at home plate. First, Cespedes bobbled Mike Trout's double, and then he whirled to send the ball on the fly to A's catcher Derek Norris for one of the most thrilling plays you'll ever see.
"Those are the types of throws you have to make when the game is on the line, and it's do or die," said Andre Dawson, who knows something about the subject, which I'll explain in a moment. For now, I'll just say he is an executive for the Marlins after playing well enough for 21 seasons in the Major Leagues through 1996 to reach the Baseball Hall of Fame. Added Dawson of Cespedes, "In order to make a throw like that, you have to really elevate the ball. Obviously, what he showed was a lot of arm strength. I would say he's got a strong arm, but I wouldn't necessarily say he has a great arm."
Great arms belong to outfielders like, well, like Dawson, who ranks among my all-time favorite players for many reasons, but for that great arm reason in particular. Yes, he slammed 438 home runs. Yes, he also was a speed guy before his knees wouldn't cooperate. In fact, he is one of just eight players ever to manage more than 300 homers and 300 stolen bases for a career. And, yes, he was an NL MVP, and he won four Silver Slugger Awards, and he was as pleasant as they come as a superstar.
You know where I'm going: his otherworldly throwing, period. During Dawson's career with mostly the Expos and the Cubs, he was a center fielder and later a right fielder noted for terrorizing base runners with a right arm that was a Triple Threat: Powerful, accurate and consistent.
Now that's a great arm.
"Just to show the difference, a great arm can make a throw similar to what Cespedes did and not make it as highly elevated and throw it toward the plate on one bounce," Dawson said. "I played with guys like Dave Parker, Ellis Valentine and Dave Winfield. Those are guys who had great arms, because you had a tendency not to try those individuals (as a base runner), but they were liable to bait you. They tried to make you take the extra base, knowing you're not going to do it, because they knew you knew about their arms."
They also knew about the combination of Dawson's arm and his desire to fool unsuspecting runners with it (see above), which contributed to his eight Gold Gloves, including six straight at one point. This was bizarre. I mean, here was all of this arm-related outfield expertise for somebody who spent much of his youth growing up in Miami playing shortstop and a third baseman.
Then again, Dawson did have the throwing exploits of a perennial All-Star outfielder on his mind.
"I always liked Al Kaline, and I thought he had a pretty good throwing arm," Dawson said, noting that Kaline remained one of his role models as a prolific thrower after he eventually was moved to the outfield along the way to getting selected by the Expos in the 1975 June draft and grabbing NL Rookie of the Year honors two years later. "It was only after I signed (with the Expos) that I got a chance to see some of the great arms in the game. All of them pretty much had something different about them that awed you, and they all made you want them to do that same thing again."
Which brings me to this: Are great arms born or made?
"You can work on arm strength," Dawson said. "You can tell guys to 'long throw' as much as they can, just to stretch the muscles in the shoulder, and then they should close the gap to get in some power throws. Those things have a tendency to develop arm strength and accuracy. But today, there are a lot of throws that are made (that aren't great ones), because guys don't take infield as much. They don't use the cutoff man as much, which causes bad throws and a lot of runners to advance an extra base.
"But, really, when you look at it, a great throw is just a 'spur of the moment' type of thing. It's usually an element of surprise."
And which of today's outfielders have great arms? Dawson said quickly, "Yasiel Puig is one of those guys who really gets excited by making a great throw, and I think Bryce Harper potentially has the ability to have a strong and accurate arm. Giancarlo Stanton has a strong arm when his footwork is good. But, if I had to pick one guy, it would be Puig, because after he gets ready to throw, he has that special look about him, like a Bo Jackson."
Or like an Andre Dawson.
Terence Moore has covered a variety of sports for more than three decades and contributes columns to MLB.com.
This story was not subject to the approval of Major League Baseball or its clubs.