Bergman joins long list of Rockies' wounded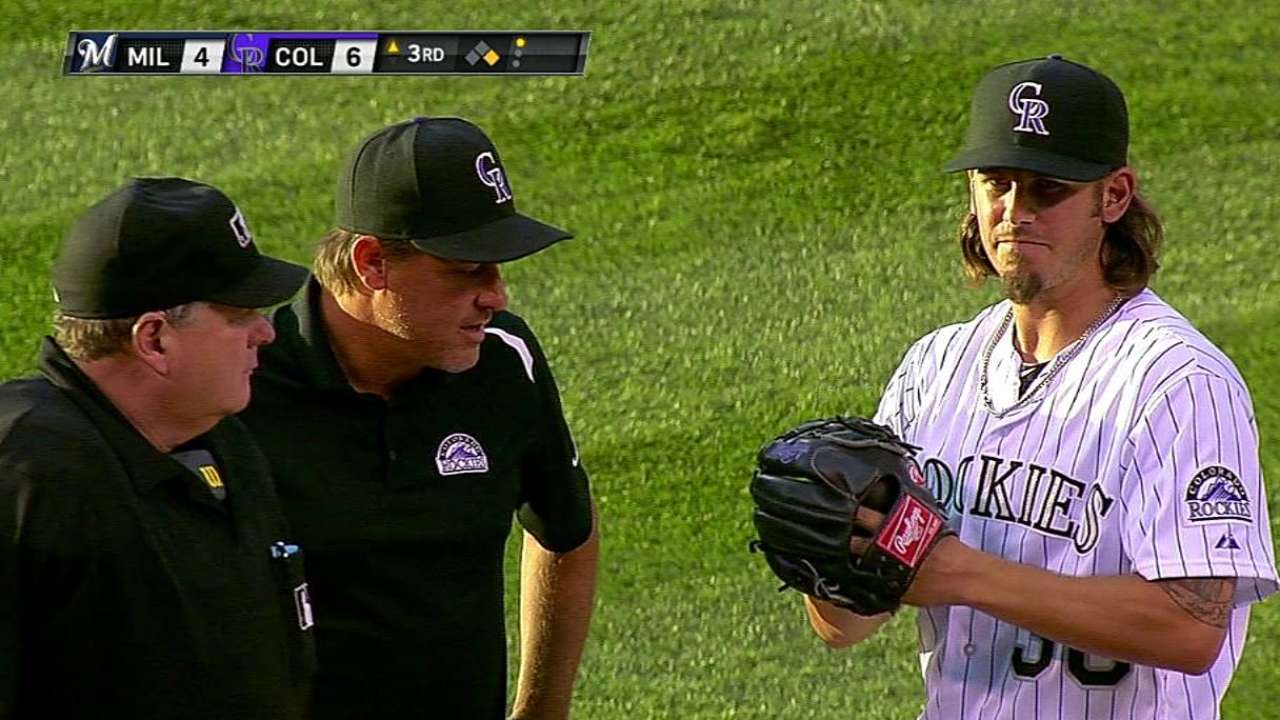 DENVER -- Not to be harsh, but it didn't take long for right-handed pitcher Christian Bergman to fit in with the Rockies.
Hit by a line drive from the Brewers' Aramis Ramirez on Friday night in just his third Major League start, Bergman was sporting the latest in removable-cast technology on his left hand -- the fashion craze around the injury-plagued Rockies' clubhouse. Bergman's hand regained much of its range of motion over the last several days, and he believed he would start Wednesday afternoon against the Cardinals.
However, an MRI exam revealed a break of the trapezium bone at the heel of the hand. Now Bergman will wear the cast, which can be removed and cleaned but must immediately be put back on, for six weeks. Although it's his catching hand, hitting and fielding are risks.
"It turns out the spot where it was still sore is where it's broken," said Bergman (0-2, 7.20 ERA). "It was a surprise to me. Even after learning that, I still wanted to pitch tomorrow.
"But there's a little knob that sticks off of it, and that's where it's broken. There's a tendon that runs across that knob. If I were to do something funny and sever that tendon, that would be an even bigger problem."
When the Rockies officially place him on the disabled list Wednesday so lefty Yohan Flande can make his Major League debut, Bergman will join fellow pitchers Brett Anderson (broken left index finger) and Jordan Lyles (broken left hand), third baseman Nolan Arenado (broken left middle finger) and outfielder Carlos Gonzalez (tumor in left index finger) as Rockies on the DL with hand/finger injuries.
Not only that, but catcher Wilin Rosario missed a few starts early with left hand and wrist inflammation, and left-handed pitcher Jorge De La Rosa spends time not pitching wearing a state-of-the-art splint on his bruised left middle finger.
So Bergman is part of whatever the heck is going on around here.
"I've definitely never seen this many injuries, especially all in the same place," Bergman said. "It's just crazy."
Rockies manager Walt Weiss said, "It looked like Bergman's hand was coming around, but it turns out he has a fracture in that hand. So he will join the long list of pitchers, in particular, with broken hands. It's been strange, kind of an epidemic around here."
Thomas Harding is a reporter for MLB.com. Follow him on Twitter @harding_at_mlb. This story was not subject to the approval of Major League Baseball or its clubs.