Butler raring to go as he recovers from shoulder injury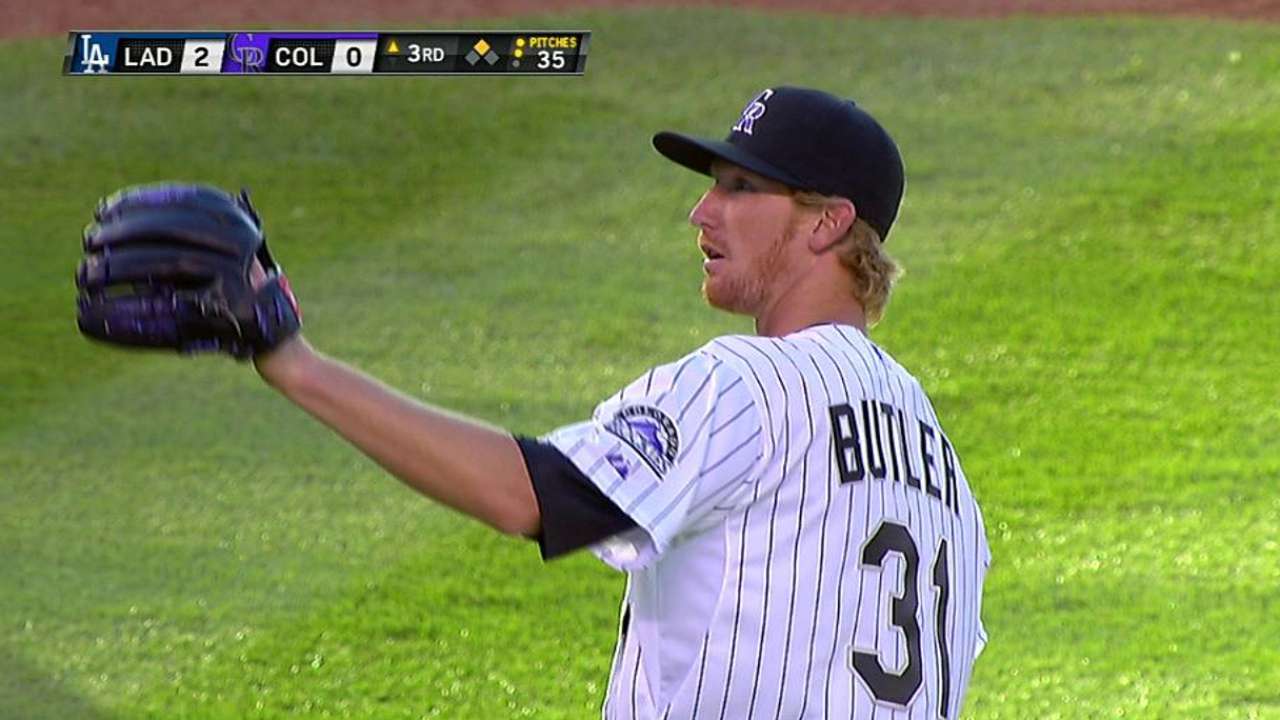 DENVER -- Rockies rookie pitcher Eddie Butler isn't sure what to do with himself when he's not rehabbing from right rotator cuff inflammation.
"I'm losing my mind," Butler said. "[Veteran reliever LaTroy] Hawkins came up to me yesterday and said, 'You look like a lost 12-year-old.'"
Colorado placed Butler on the 15-day disabled list after unexpected soreness set in after his Major League debut on June 6, a loss to the Dodgers, and later shut him down to do exercises to improve muscles around the shoulder area -- especially at the front and underneath the shoulder. The sub-scapula, the muscle that showed weakness, is a difficult one if a significant tear occurs. Surgery is not an option, because doctors would have to work through other rotator cuff muscles, and rehab can be six months.
But Butler returned to throwing this week, threw long-toss at 120 feet Wednesday and will move to 150 feet Thursday before throwing his first bullpen session since the shutdown on Friday. He'll throw another bullpen after the team returns from its road trip on Thursday, then he will face hitters a few days after that.
After completing those rehab steps, Butler hopes to go on a Minor League assignment. The Rockies believe stopping him and reworking his routine between starts will help him progress. Though Butler pitched well enough at Double-A Tulsa to make the jump to the Majors, he felt his sinker wasn't as strong as it was last year, when he posted a combined 1.80 ERA at three levels.
"I thought I was pretty ready [to make the jump to the Majors]," Butler said. "I don't think my sinker was where it was last year. That may be a little bit of what caused the soreness. Maybe I did things a little different this year than last year. I'm not sure if my arm slot is higher. It's just a little different, and the ball's not coming out quite the same.
"It's getting back. Since I've been shut down, it's kind of reset the muscle memory so I can try to get back to where I was last year."
Thomas Harding is a reporter for MLB.com. Follow him on Twitter @harding_at_mlb. This story was not subject to the approval of Major League Baseball or its clubs.