Rockies encourage fans to write in Dickerson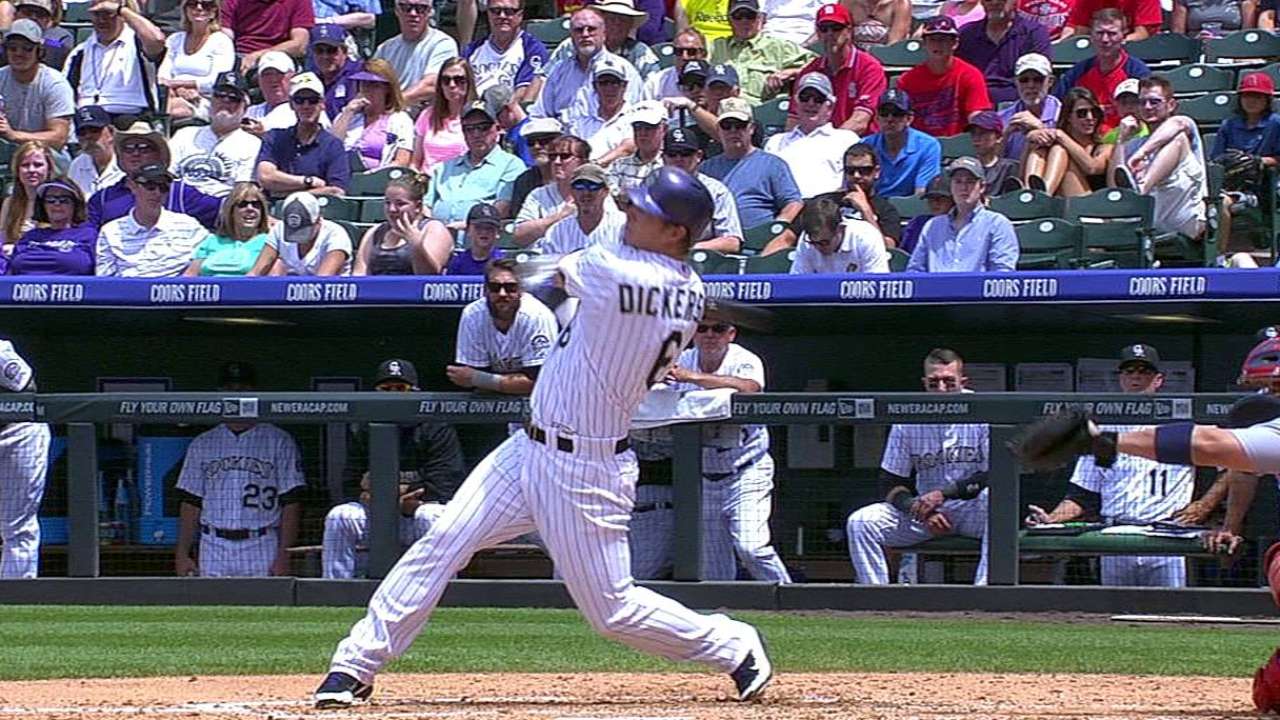 DENVER -- It took injuries for Rockies manager Walt Weiss to regularly play outfielder Corey Dickerson. But his strong numbers -- .356 with 10 home runs and 31 RBIs -- are making spelling out Dickerson a joyful exercise.
Creatively, the Rockies believe their fans can do the same.
Dickerson doubled in two runs during Wednesday afternoon's 9-6 loss to the Cardinals to complete a six-game homestand batting .520 (13-for-25) with two doubles, a triple, two home runs and eight runs. After his hit Wednesday, the @RockiesPR Twitter handle created a hashtag -- #WriteInDickerson -- as fans vote for the National League All-Stars.
Fans can cast their votes for starters at MLB.com -- online or on a mobile device -- using the 2014 All-Star Game MLB.com Ballot Sponsored by Experian until Thursday, July 3, at 9:59 p.m. MT. The 2014 All-Star Game will be played at Target Field on Tuesday, July 15 on FOX.
Dickerson was one of six outfielders the Rockies carried on their Opening Day roster, but he was not placed on the All-Star ballot. However, the numbers say putting his name there isn't preposterous.
Granted, it's in far fewer plate appearances, but Wednesday lifted Dickerson's OPS to 1.073. It's slightly higher than the 1.068 OPS of shortstop Troy Tulowitzki, who has enough plate appearances to be listed tops in the league in both on-base percentage and slugging percentage, and is the leading vote-getter among NL players.
Last week, Dodgers pitcher Clayton Kershaw earned NL Player of the Week honors based on his no-hitter against the Rockies on June 18. But during the same period, Dickerson hit .500 and would have been a prime contender if not for Kershaw.
An eighth-round Rockies Draft choice in 2010 out of Meridian (Miss.) Community College, Dickerson hit .321 in 377 Minor League games before breaking into the Majors for 69 games last season. He hit .263 in '13, but this year is showing he's the same hitter he was in the Minors.
Dickerson is succeeding with his ability to reach pitches, many out of the strike zone, even a pitch or two he's had to golf. He's done it all his life, and he has shown he isn't afraid to hack at those pitches in the Majors. Being the same hitter has meant the same success.
"I try to do as much as possible with my aggressiveness; I do with what they give me," Dickerson said. "It's late in counts and you have to get what you can sometimes."
Dickerson also is hitting to all parts of the field. There is plenty of outfield room at Coors, but he's also hitting with power to all parts of the park. The ability to drive a pitch the opposite way gives him confidence to sometimes reach outside the strike zone.
"Even in the Minors, I've always got hits over the infield, and my power to the opposite field has increased the last few years," Dickerson said. "I feel I can hit it out of any part of the park. All I try to do is see the ball."
It would not be difficult to imagine Dickerson feeling at home among the game's best players. Weiss said he liked that Dickerson doesn't seem flustered, even if the opposing pitcher has a sterling reputation.
"I'll always respect people, but sometimes I'm talking to my wife and she's like, 'Oh, this guy is pitching today,'" Dickerson said. "And I'll always tell her, 'He's just a pitcher. He's got to throw it over the plate. He just throws the baseball and I hit it.'"
Thomas Harding is a reporter for MLB.com. Follow him on Twitter @harding_at_mlb. This story was not subject to the approval of Major League Baseball or its clubs.