All-Star contention a surprise for Blackmon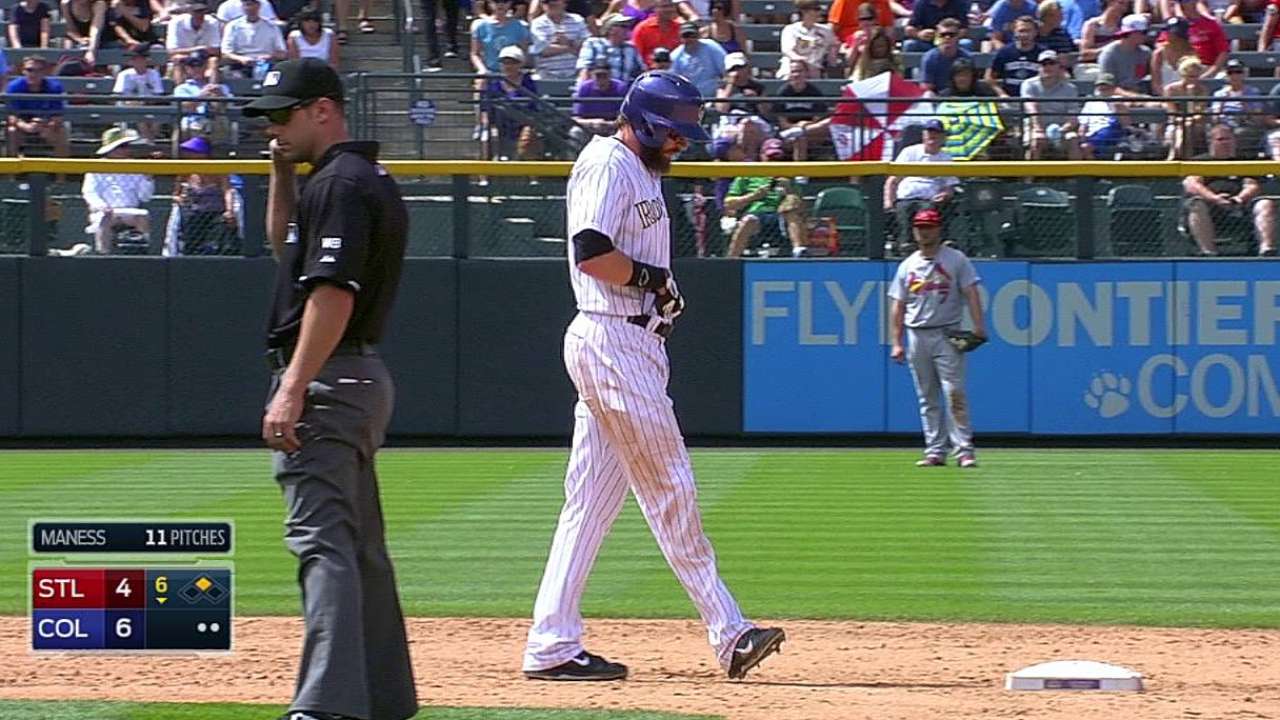 MILWAUKEE -- As one of the early surprises of this season, Charlie Blackmon was leading all National League outfielders when Major League Baseball released its first fan balloting update for the 2014 All-Star Game. He has fallen to sixth, but Blackmon says it is still surreal to see his name among the league's top vote-getters.
"Everybody wants to make the All-Star team, but that wasn't one of my goals," Blackmon said. "One of my goals, first thing was just make the team, and that wasn't even a given. It came down to the very end of camp. To be a player that made his first team out of camp and to not know if he was going to make the team, it is kind of surreal now to be talking about possible All-Star votes and stuff like that, but then again, I'm thankful for where I'm at."
Blackmon has seen extended action with the Rockies in each season since 2011 but had never been on the Opening Day roster until this year. He made a big splash by batting .468 through the season's first 15 games, highlighted by a three-game series against Arizona in which he went 14-for-14 with five RBIs and a home run.
Entering Thursday night's opener against the Brewers, the outfielder was batting .306 with 12 home runs and 46 RBIs, with his homer total already a record among Rockies leadoff hitters. Blackmon is certainly making a strong pitch to make the trip to Minneapolis, but he says it is far from the top of his mind.
"At this point, I'm trying to be an everyday player for the first time," Blackmon said. "I'm trying to hit at the top of the order consistently. I'm trying to play well enough to help our team win, and to make sure that I can be in the lineup tomorrow. I'm not really thinking about making the All-Star team -- I'm not thinking about individual goals like that.
"If we play good baseball and I get good at-bats and get on base in front of those guys that drive in runs and we play good baseball and win some games, I think we'll look up at the end of the season, and everybody's personal numbers and goals will be where they need to be."
Fans can cast their votes for starters at MLB.com -- online or on a mobile device -- using the 2014 All-Star Game MLB.com Ballot Sponsored by Experian until Thursday, July 3, at 10:59 p.m. CT. The 2014 All-Star Game will be played at Target Field on Tuesday, July 15 on FOX.
Caitlin Swieca is an associate reporter for MLB.com. Cody Ulm is an associate reporter for MLB.com. This story was not subject to the approval of Major League Baseball or its clubs.