Stubbs' self-awareness at plate leading to success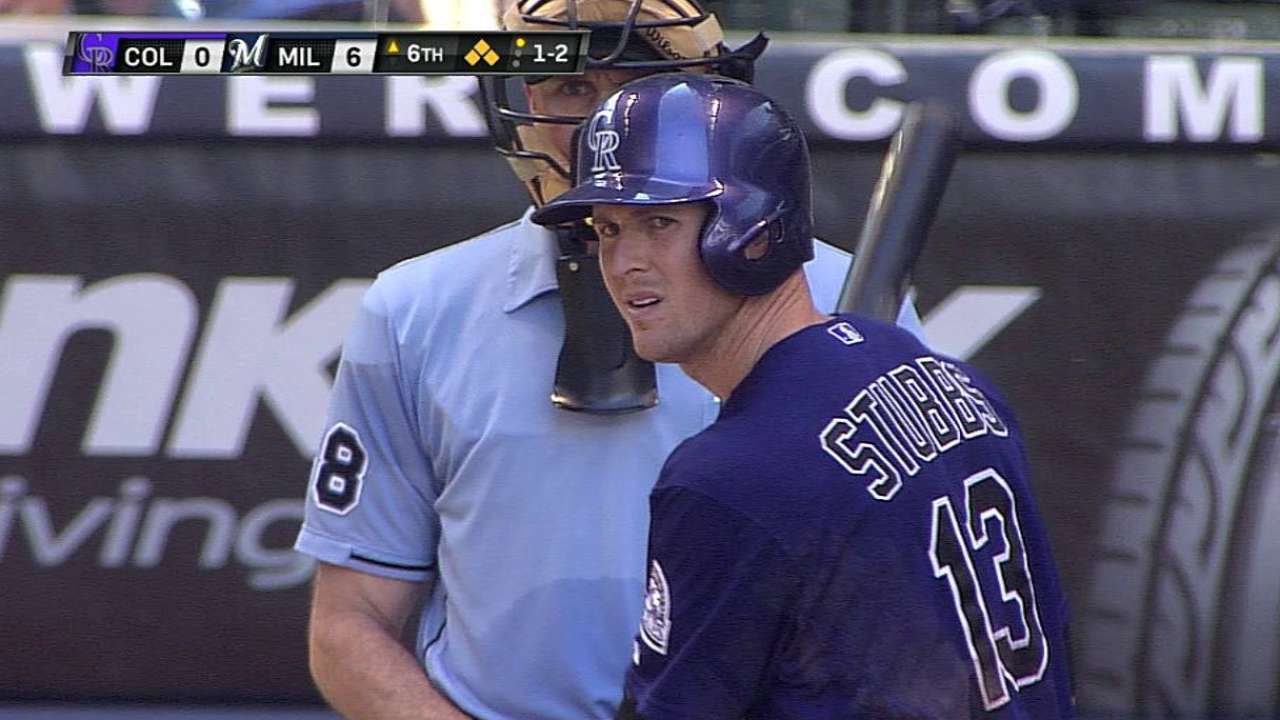 WASHINGTON -- Before joining the Rockies in an offseason trade, outfielder Drew Stubbs spent five Major League seasons alternately succeeding and struggling as he tried to learn himself as a hitter. It looks like he has a good idea now.
Stubbs went into his start against the Nationals on Tuesday night with a .299 batting average, six home runs and 20 RBIs 66 games, and his playing time has increased during the season. He also went into the game 8-for-23 (.348) with two home runs, three RBIs and two doubles in his last eight games.
With the Reds (2009-12) and Indians ('13), Stubbs hit at various spots in the order and tinkered with his setup. But immediately after the trade, Stubbs said he had a better idea of what he needed to do, and he has put that into action.
"For the most part, this year, I feel better than the last couple of years. I've been able to avoid some habits that have gotten me in trouble," Stubbs said. "I've been on time [with the startup and swing] a lot more consistently. I've been on my back side more consistently, which has kept me in better position to hit. When I've had pitches to drive, I've done it more frequently this year."
Experience allowed Stubbs to take greater control of his hitting program than in the past, when he tried suggestions that turned out to not be right for him. Stubbs communicated with Rockies hitting coach Blake Doyle about the keys to straightening him out when he falls into ruts.
While Stubbs had a high strikeout rate -- a team-high 56 in 187 at-bats going into Tuesday -- he carried a .340 on-base percentage. He entered the year with a .310 career OBP. Manager Walt Weiss sees a maturing hitter who can be dangerous. Injuries to left fielder Carlos Gonzalez and right fielder Michael Cuddyer have given Stubbs more opportunities to play. Stubbs has played center, while Charlie Blackmon has been a corner guy as much as a center fielder.
"The first month was probably difficult for him, because for the most part, he was an everyday player and Blackmon got off to his great start [in center field], so I was trying to find time for all six outfielders," said Weiss, who rested shortstop Troy Tulowitzki on Tuesday and gave Stubbs the cleanup assignment. "[Stubbs] didn't get consistent playing time, but I've been running him out there almost every day now and he's done a nice job. He's got a lot of raw power.
"He's a supremely talented athlete. If you test his athleticism in some of those tests we run these guys through, he's off the charts."
Stubbs said the next step is making the inevitable adjustments that come when pitchers catch on to what he's doing. Part of it is understanding himself better than anyone, but part of it is also seeking new information when necessary.
"It's a fine line you have to walk -- being confident in yourself, yet being open to criticism and making changes," Stubbs said. "Look at Tiger Woods. He was at the peak of his golf game and he decided to tear his swing down and rebuild from nothing. Look at it in the long run."
Thomas Harding is a reporter for MLB.com. Follow him on Twitter @harding_at_mlb. This story was not subject to the approval of Major League Baseball or its clubs.