Arenado set to return to Rockies lineup on Thursday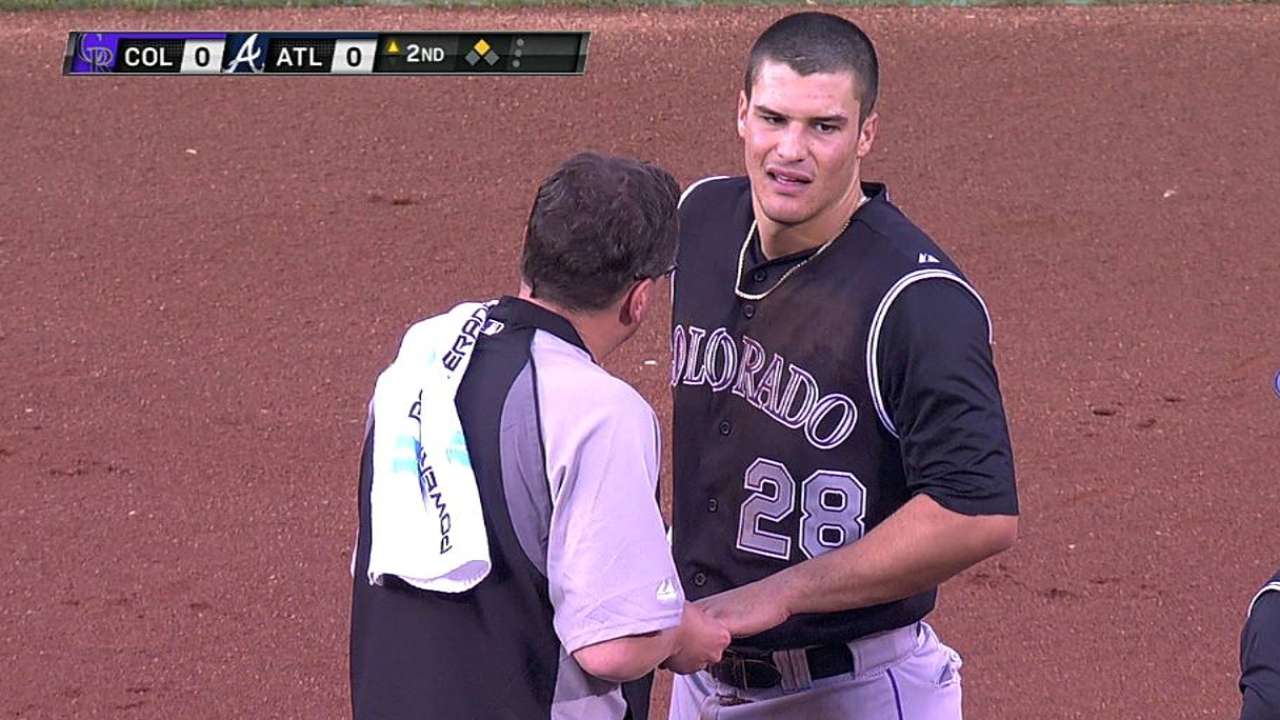 WASHINGTON -- For the last several days, since gaining confidence that the left middle finger he fractured has healed, third baseman Nolan Arenado has been driving the Rockies crazy trying to talk his way back into the lineup.
But Arenado will get his wish Thursday, and the Rockies will be glad to see him.
The Rockies plan to activate Arenado, 23, the 2013 National League Gold Glove Award winner as a rookie and an All-Star voting frontrunner this year before suffering the injury May 23, for Thursday night's game against the Dodgers. The return of Arenado, who was scheduled for the fifth game of his rehab assignment at Triple-A Colorado Springs on Wednesday, heralds the start of a four-game series with the second-place team in the NL West and a 10-game homestand going into the All-Star break.
"It feels like he's been out a long time, and I guess he has," said Rockies manager Walt Weiss, who laughed off Arenado's pleas to play and stuck to the advice of the trainers and medical staff. "Having Nolan in the lineup makes our club better. That's nothing against the guys that have filled in for him. They've done a solid job, but Nolan is having an All-Star-type year."
There is other hopeful injury news. Left fielder Carlos Gonzalez will take batting practice on the field Thursday and is pushing toward an injury rehab assignment after recovering from surgery to remove a tumor from his left index finger. Right-handed starting prospect Eddie Butler will throw a live batting practice session on Saturday and could be a candidate for a rehab assignment. Finally, if lefty Boone Logan checks out fine after appearing for Colorado Springs on Wednesday, he could be activated after a day or so of rest.
Lefty Brett Anderson, who made just three starts before suffering a broken left index finger, was scheduled Wednesday for his first injury rehab start. He was to throw 60-65 pitches for Colorado Springs.
The Rockies had 10 players on the DL going into Wednesday, and the news of the day was righty Jhoulys Chacin -- who hasn't been right all year -- will decide next week whether to undergo surgery on his right shoulder, and possibly a lengthy rehab.
Seeing the peppy Arenado and actually being able to insert him into the lineup should be a lift for a club that has struggled through injuries and less-than-desirable results.
"When guys are injured and they come back, it helps the guys that are out there every day," Weiss said.
Thomas Harding is a reporter for MLB.com. Follow him on Twitter @harding_at_mlb. This story was not subject to the approval of Major League Baseball or its clubs.