After six weeks on DL, Arenado back in lineup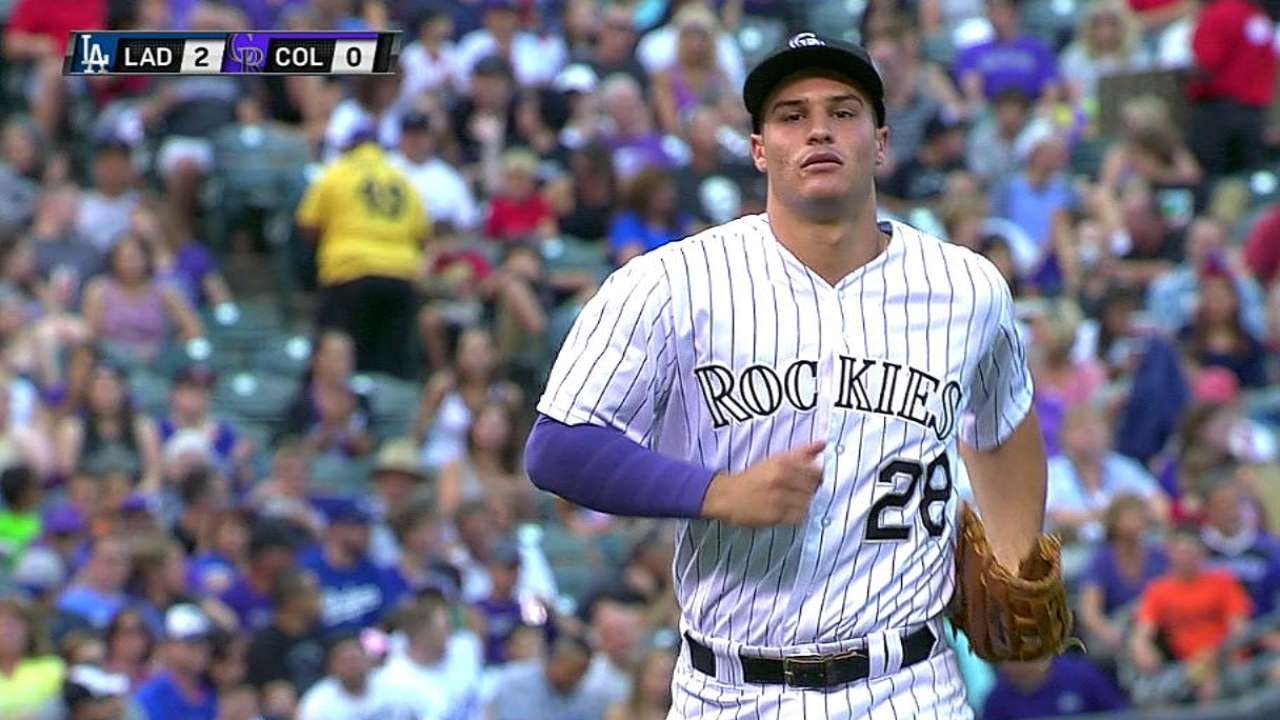 DENVER -- A team in desperate need of a jolt officially activated their resident sparkplug on Thursday, with Gold Glove third baseman Nolan Arenado rejoining the Rockies to start the four-game series against the Dodgers.
Arenado has been out since May 23 after breaking his left middle finger sliding into second in a game against the Braves. The injury did not require surgery, but his return comes at the end of his original 6-week timetable.
Arenado went 0-for-4 with two strikeouts in the Rockies' 3-2 loss to the Dodgers on Thursday night.
"I think [Arenado's return] is certainly a boost for us," manager Walt Weiss said. "He's a very talented player and provides game-changing defense."
Arenado was looking to get about 25 at-bats on his rehab assignment with Triple-A Colorado Springs, but the Rockies liked what they saw enough to bring him up before he hit that marker. In 20 at-bats with the Sky Sox, Arenado had seven hits, two doubles, two runs and three RBIs.
At the time of his injury, the Rockies trailed the first-place Giants by three games. But with an experimental rotation of Charlie Culberson, Josh Rutledge, D.J. LeMahieu, Ryan Wheeler and even Michael Cuddyer at third in Arenado's absence, the Rockies have gone 10-27.
"It's good having Nolan back," Weiss said. "He was having a great first half before he got hurt. He brings a lot to our club on both sides of the ball and brings a lot of energy. It will be great to see him running around out there again."
Arenado was batting .305 with 28 RBIs, 27 runs and 17 doubles at the time of injury. The Rockies optioned left-hander Christian Friedrich to Triple-A to make room for Arenado on the 25-man roster.
Cody Ulm is an associate reporter for MLB.com. This story was not subject to the approval of Major League Baseball or its clubs.