McKenry gets hometown cheer, then homers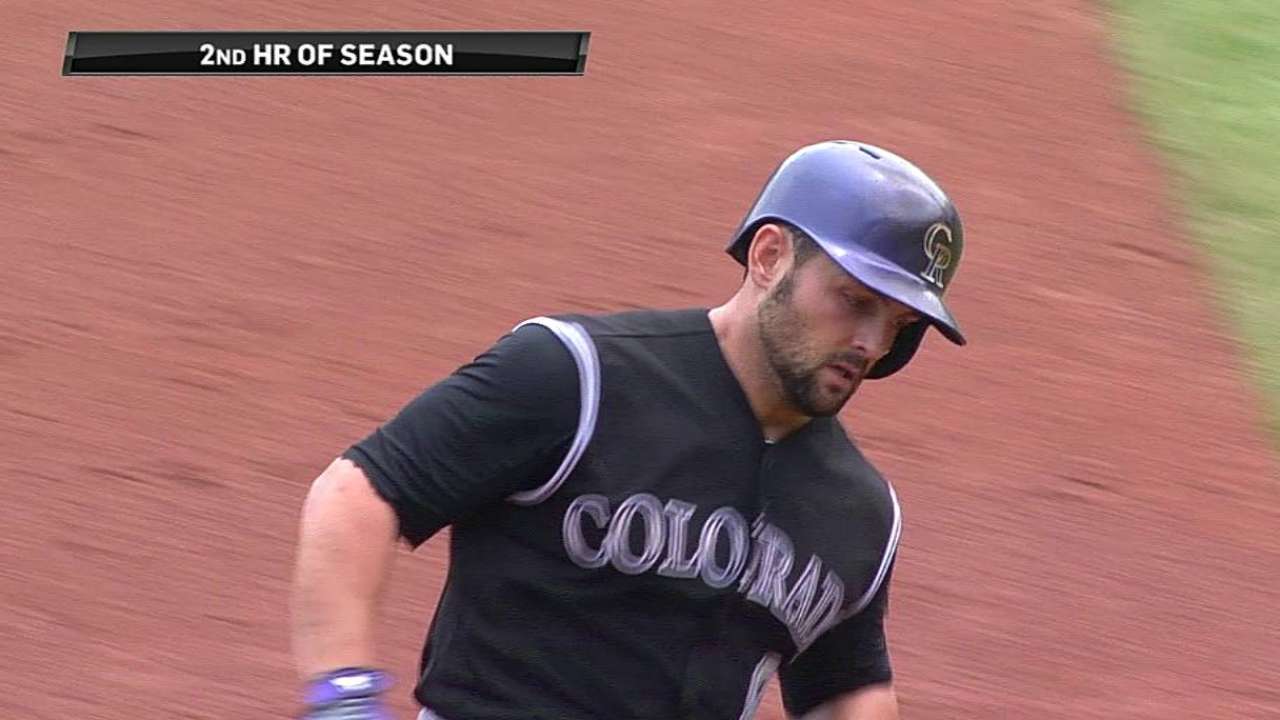 PITTSBURGH -- It sounded like a hometown cheer when Michael McKenry was introduced as Rockies starting catcher Michael McKenry for Sunday's finale of a three-game set with the Pirates.
The reception was just as warm before McKenry's first at-bat. McKenry showed the Pittsburgh fans his appreciation, but maybe not in the way they wanted, by leading off the second inning with his second homer of the season for a 3-0 lead. There were a few cheers, but good-natured boos as well.
McKenry broke in with the Rockies in 2010 but played the last three seasons with the Pirates. McKenry won the hearts of Pirates fans last season, when he suffered a meniscus injury on July 27. But with regular catcher Russell Martin banged up that night against the Marlins, McKenry completed the game and finished with four hits.
Even during the National League Wild Card and the NL Division Series during player introductions, the PNC Park crowd cheered wildly as McKenry limped to the third-base line to join his teammates.
"It's special with the warm welcoming I have gotten, and all the people that have come up to me, on the street, on the field, in the bullpen, it's real special." McKenry said. "It just reminds me that baseball is a very small thing, and how you react to people is the most important thing.
"Jackie Robinson always said, 'your life is about the people you affect.' I'll never forget that. He was my favorite player of all time. That's the most important thing. It's one thing I know about here. The fans embrace me, and I embrace them. I'm blessed to be a part of this new family, and I was blessed to be a part of that family."
Still recovering from surgery, McKenry began the season at Triple-A Colorado Springs. He struggled offensively during his first promotion but has been solid since being called up a second time. He entered Sunday with a .303 batting average.
"The biggest thing is it's not about me -- I just came from chapel and there's something much better going on -- it's not about results, it's about not being scared of failure," McKenry said. "This game got taken away from me real fast last year by me getting hurt and a lot of people were critical about me coming back [he underwent surgery July 30 and was trying to make the Rockies roster from the start of Spring Training] and being the same player. I keep it simple.
"As a team, that's our mentality, to grow every single day. We've been fighting so many things this year [injuries]. I've never been a part of a team that's fought so much. But we continue to pursue and grow every single day. It's going to make us better."
Thomas Harding is a reporter for MLB.com. Read his blog, Hardball in the Rockies, and follow him on Twitter @harding_at_mlb. This story was not subject to the approval of Major League Baseball or its clubs.