Workhorse Belisle feeling better than ever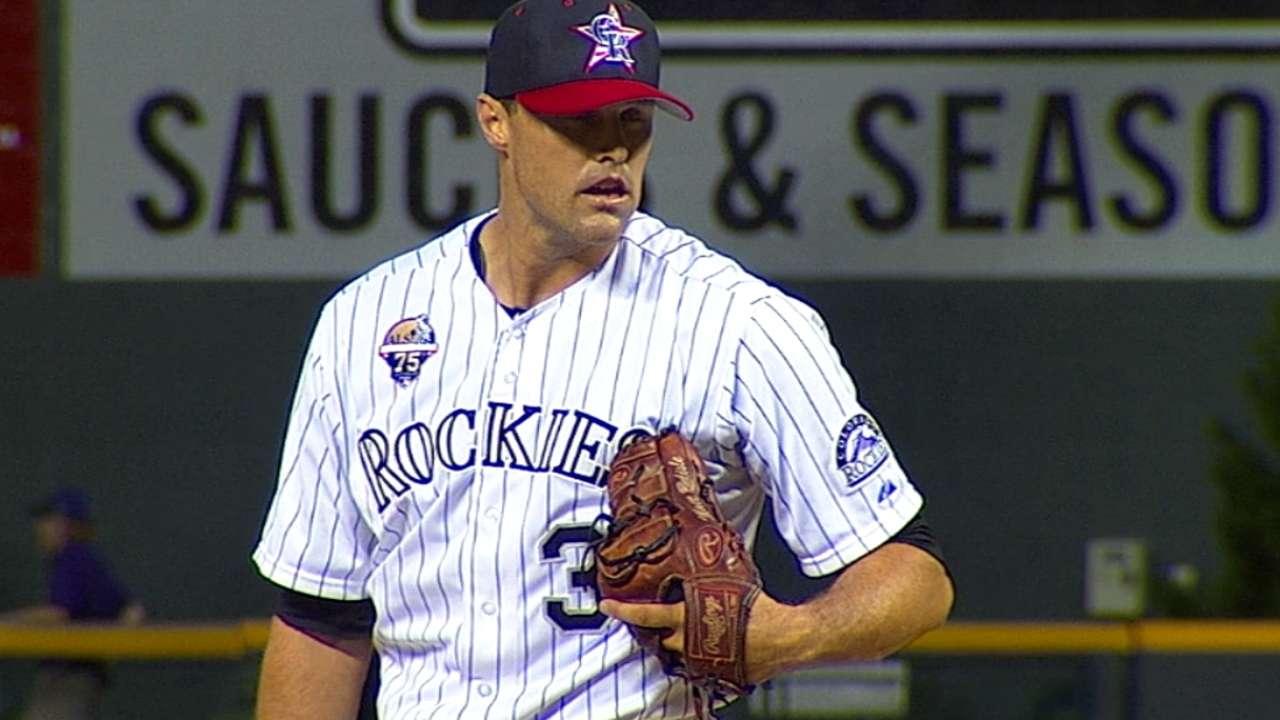 DENVER -- Rockies righty reliever Matt Belisle believed in Matt Belisle, and that's all that mattered.
On July 20, Belisle gave up four hits and two runs and let a possible Rockies victory slip away in Pittsburgh. It was at the end of a nine-game stretch in which Belisle went 0-4 with an 11.57 ERA, and opponents hit .471 with a .513 on-base percentage against him.
Belisle said at that point he would be "back on top," at a time when many observers wondered if he had pitched his way out of town. Since then, Belisle has given up just two runs in eight appearances. By last Thursday's non-waiver Trade Deadline, contending teams were hoping the Rockies would send him away. It didn't happen.
During the good stretch, Belisle has had plenty of traffic -- eight hits and three walks in 8 1/3 innings. But he is making enough pitches to show why he has been one of the most frequently used pitchers in the Majors in recent seasons. Wednesday night's scoreless inning in a 13-4 victory over the Cubs, during which he walked one and gave up a hit, but forced a key double-play grounder, was his 354th appearance since the start of the 2010 season.
Belisle, who has pitched in 52 games heading into Thursday's action and 72 or more in each of the past four seasons, insists there's a lot left in his arm and heart.
"You always want to have success and consistency and great numbers all year, but one thing I love is the pressure -- having to fight and grind," Belisle said. "That's what makes great ballplayers. I look at every season as an opportunity to become stronger at the grind. Have an unwavering confidence and belief, and win the day. I really try to focus on that."
At 34, Belisle has remained in top condition and there is no major issue with his arm. Last year, his fastball velocity dropped to 90.5 mph, the lowest it's been since he joined the Rockies. The dip sparked concerns that the heavy workload had negatively impacted his arm. However, this year he is up to 91.5 mph, which is not far below the 92-plus range of his best years.
While Belisle doesn't concern himself with velocity, the increase supports his belief that he still has the necessary physical ability. Belisle said the career-long battle to repeat his delivery, as well as a tendency to overanalyze himself, have been issues.
"Mentally and physically, I'm at the best of my career right now," Belisle said. "Now, the results need to be there, and they will. I know I have a lot more in me, and a lot more to give to my team.
"It's just me getting out of my old way. It's me figuring things out, looking at journals from my successes, going to people who have seen me for a long time and pulling things out. It's just digging deep. I really tightened up my mindset and focus, doing things before the pitch to focus on executing, and made small adaptations of the grips on my pitches to feel better command. I'm also doing some mechanical things each day to make sure I can repeat my delivery -- small steps."
Thomas Harding is a reporter for MLB.com. Read his blog, Hardball in the Rockies, and follow him on Twitter @harding_at_mlb This story was not subject to the approval of Major League Baseball or its clubs.