CarGo hampered by lingering knee problems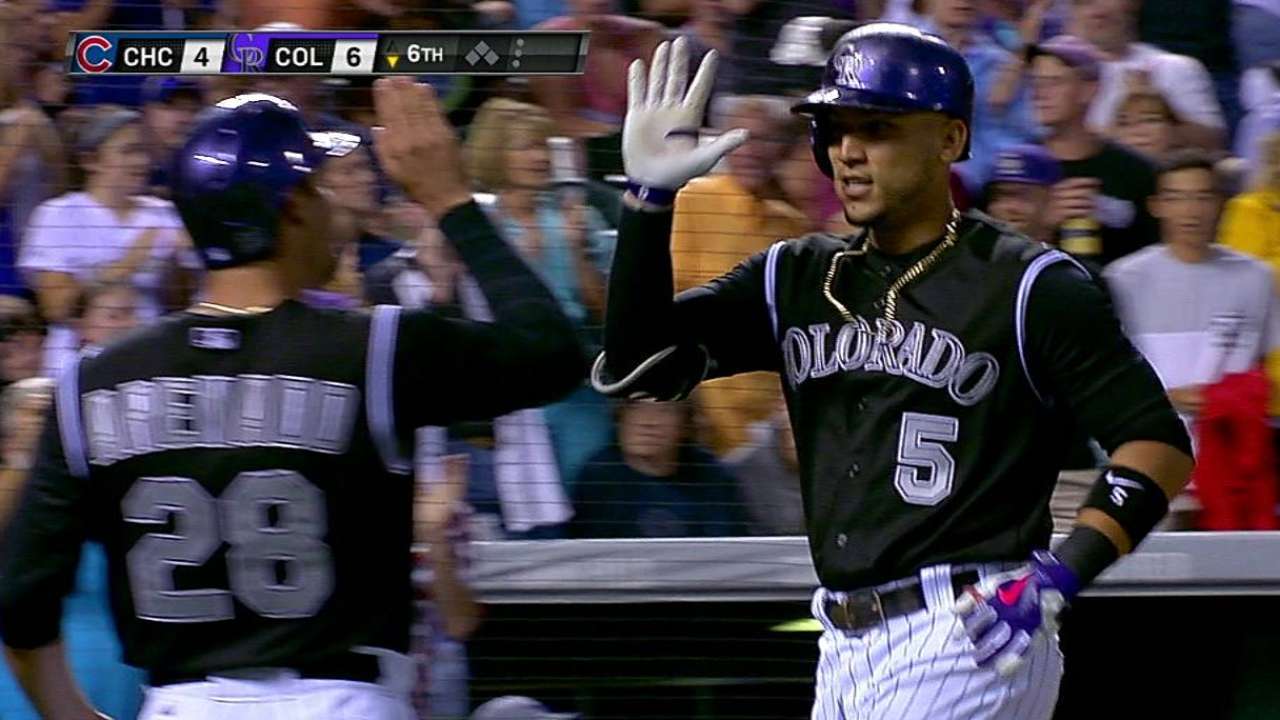 PHOENIX -- The usually affable Carlos Gonzalez's mood was dragged down by his left knee, the way his game has been way too often this season.
Gonzalez was lifted after striking out in each of his three at-bats during Friday night's 5-3 loss to the D-backs, and he was not in the lineup again Saturday night. The Rockies' explanation was Gonzalez didn't feel well, and Gonzalez said the knee was the center of the issue.
"I was having a bad day during batting practice," Gonzalez said. "It's tendinitis. I'm tired of talking about it. My body was beat up. My knee was beat up. Then they decided that was it."
Gonzalez missed a month after having a benign tumor removed from his left index finger, but the tendinitis had bothered him from the start of the year to when he was shelved in early June. Gonzalez reported that the knee felt better when he returned, but it hasn't felt good consistently.
Gonzalez has said several times he wants to continue playing, and the Rockies don't believe Gonzalez is at the point where he needs to be shut down. However, there is an argument for resting, even if it means ending the season early, and going to a procedure such as stem-cell therapy to prepare for next season. But the desires of Gonzalez and the Rockies to finish strong are ruling at this point.
Such decisions are difficult when it comes to an injury like Gonzaelz's. It's not a broken bone or a muscle tear, which require a player being shut down. Knee tendinitis is one that players and clubs often feel can be manageable if they don't put the player at risk for further physical damage. Manager Walt Weiss said the Rockies will "evaluate him day to day" based on whether he is at risk of causing further damage to the knee.
However this injury is to Gonzalez's load leg, and it's limiting his effectiveness. A player who has made two All-Star Game appearances and won a batting title is hitting .238 with 11 home runs and 38 RBIs in 70 games. Since his return to the lineup on July 11, he has hit .188 with three home runs, seven RBIs and 25 strikeouts in 64 at-bats.
But Gonzalez and the Rockies believe he'll feel better and play better.
"I think it's important for every player to finish strong," Weiss said. "It's important for their psyche. It's important for their confidence. It's important going into the offseason for every individual and for our club. That's what you have to gain, by going out there, performing well and finishing strong. People tend to remember how you finish and forget how you started."
Thomas Harding is a reporter for MLB.com. Read his blog, Hardball in the Rockies, and follow him on Twitter @harding_at_mlb This story was not subject to the approval of Major League Baseball or its clubs.