Bettis transitions to Triple-A rotation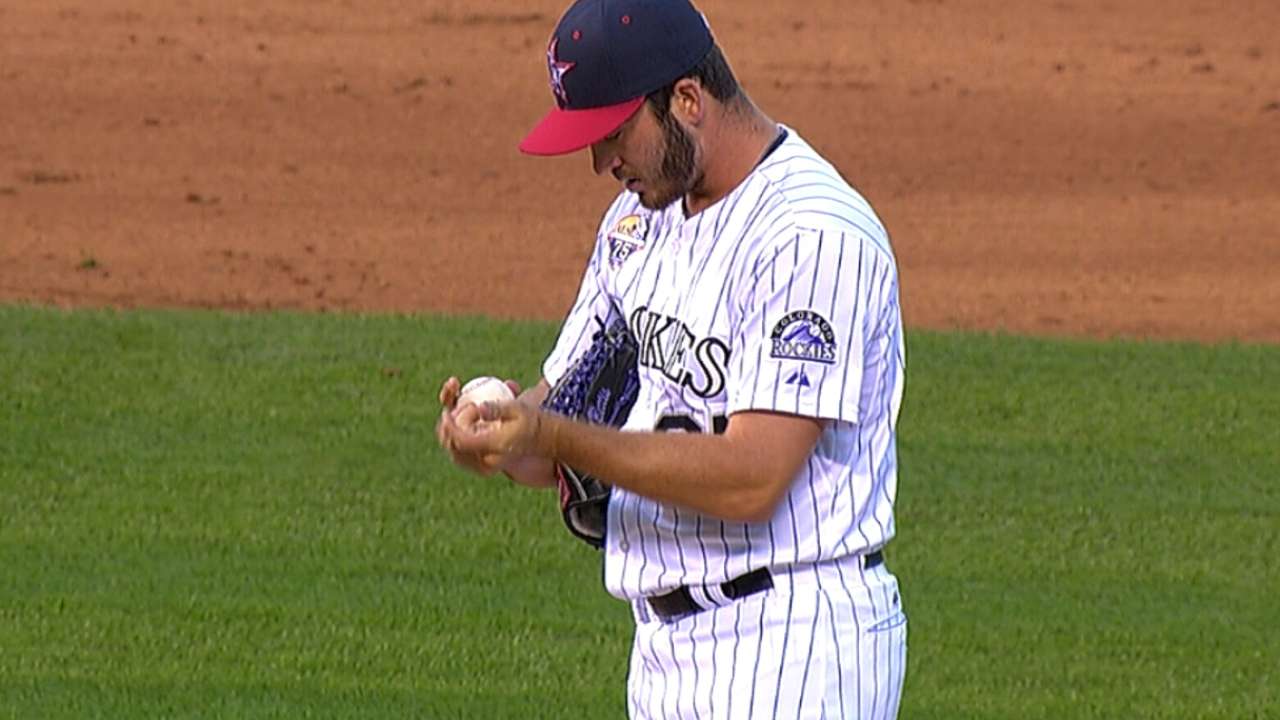 SAN DIEGO -- Right-hander Chad Bettis made the Rockies' active roster with a strong Spring Training, but almost immediately his year took on the disturbing pattern of standout work in the Minors and extreme struggles in the Majors (0-2, 9.21 ERA in 21 games).
To unlock Bettis, 25, the Rockies' second-round pick in the 2010 MLB First-Year Player Draft, the club has moved him into the starting rotation at Triple-A Colorado Springs.
Bettis was a starter at Double-A Tulsa last year, and he made eight starts for the Rockies last season before the Rockies moved him to the bullpen for his final eight games.
This year as a reliever at Colorado Springs, Bettis was 2-2 with a 1.72 ERA, three saves, and 32 strikeouts against 12 walks. But in the Majors, batters recognized pitches destined to be balls as soon as they left his hand. He ended up with 13 strikeouts, but had 10 walks and a .378 batting average against.
Maybe a return to starting could help Bettis harness his pitches. So far, not bad. Bettis will need to increase his pitch count, but in two Sky Sox starts he has given up two runs and six hits, with nine strikeouts against three walks, in 7 1/3 innings.
"One of the many things he needs is to get his rhythm and timing back over the rubber," Rockies pitching coach Jim Wright said. "When he started before, he would be in the low 90s the first three innings, the middle 90s the second three innings and the higher 90s at the end, so it took a while to get going. So we moved him to the bullpen.
"But this year we weren't seeing the same out of the 'pen that we saw at the end of the season last year. We attribute it to the fact he hasn't pitched enough to get to the point of having timing, rhythm and arm strength. We think when starting, it could come back."
It's possible that starting and being on the mound more could make him a better reliever. But the Rockies haven't ruled out keeping Bettis as a starter if he does well during this stint with the Sky Sox.
"I was never with Chad in the Minor Leagues, but he pitched pretty deep into games and seemed to get better as he went along," Wright said.
Command, rather than his role, has been the problem during his stints in the Majors this year.
"There is a difference between Triple-A and the big leagues," Wright said. "He and I had that conversation. The pitches that they swing at out of the zone down there, they lay off of up here. I posed the question, 'What does that say to you?' He said, 'I need to increase my command.'"
In another Minor League pitching development, Rockies chief baseball officer Dan O'Dowd and senior vice president of Major League operations Bill Geivett are spending part of the week with Double-A Tulsa evaluating right-handed pitchers Jon Gray and Eddie Butler, and left-hander Tyler Anderson.
All are recent first-round or supplemental first-round picks. The trip gives Geivett, who usually travels with the Major League team, a chance to see the pitchers in person. And he and O'Dowd can decide when or if to bring them up to the big club this year, as well as the offseason plans.
Thomas Harding is a reporter for MLB.com. Read his blog, Hardball in the Rockies, and follow him on Twitter @harding_at_mlb. This story was not subject to the approval of Major League Baseball or its clubs.