Despite Rox struggles, vet Hawkins hopes to return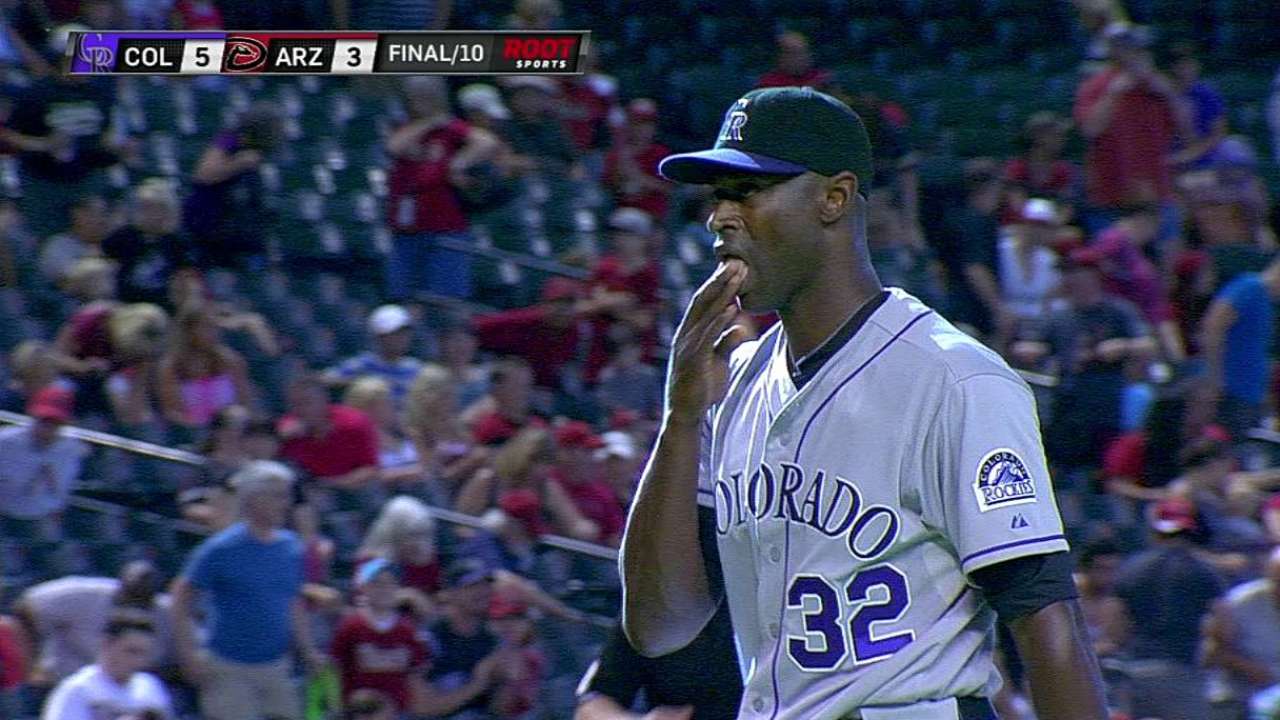 SAN DIEGO -- At 41 years old, Rockies closer LaTroy Hawkins has experienced many highs and lows while chasing what he's never grasped -- a World Series championship. But this year, he may have a new experience he didn't want.
"I know the way we started and I know a lot of the reasons our record is the way it is at this point," Hawkins said. "But does it make it any easier to stomach? No, it doesn't.
"I mean, we're at a pace to lose 100 games. I haven't done that yet."
At 46-73 going into Wednesday afternoon's finale of a three-game series with the Padres, with much of the Rockies' star power -- shortstop Troy Tulowitzki and outfielders Carlos Gonzalez and Michael Cuddyer -- on the disabled list, triple digits in the "L" column is possible. Hawkins said the older you are, the tougher the season is.
"A lot of young guys, it's their first time in the big leagues and they're trying to pave their own way," Hawkins said. "They're just trying to find their way. It is definitely learning on the job, and it's the best experience you can get.
"But it's tough on the coaches -- manager, pitching coaches, base coaches, GMs. As a veteran, it's tough."
The consensus from manager Walt Weiss to the coaches to the players who have big league experience is the effort isn't the problem. Much of the problem is executing situations, and there are serious talent deficiencies. There is also a hard-to-measure toughness that a team can rely on to be competitive when things are bad. Is there enough toughness on the current roster?
"That's a tough question," Hawkins said. "When the stars on the team are tough, that oozes out to the rest of the team. And I'm not saying our guys aren't tough, because they are, but they're not around. These guys don't get to see Tulo go out and do what he does best, CarGo at his best. They're having to watch guys from afar, as opposed to watching their guy on their team.
"It's like you and I are on a boat and there are 12 holes in the bottom. All we've got between us is four feet and four hands, and the four holes left are sinking us."
But Hawkins believes a healthy team next year can make a turnaround, much like the Twins did in the early part of his career. He was a member of the Twins in 2000 when they lost 93 games. But the next year they finished second in the American League Central, and the following year they made the AL Championship Series. Much of that depends on whether younger players learn from this year's mistakes.
Hawkins would like to be part of it. The Rockies hold a $2.5 million option for 2015, and the fact he wasn't traded at the non-waiver Trade Deadline suggests that the club wants to bring him back. Despite few opportunities because leads have been rare, Hawkins has upheld his end. He is 2-2 with a 2.93 ERA and 18 saves in 19 chances.
"I haven't been told anything about the option, but it's fine, business," Hawkins said. "But do I want to come back? Yeah. This is the organization where I had my best season as a team. I'd like to repeat that here.
"Do I think our team was better this year [before injuries] than in '07 [a surprise World Series trip]? I definitely think so. But in '07 we only had a couple injuries, and we had guys step up and we didn't miss a beat."
Thomas Harding is a reporter for MLB.com. Read his blog, Hardball in the Rockies, and follow him on Twitter @harding_at_mlb. This story was not subject to the approval of Major League Baseball or its clubs.