Decision coming on CarGo's season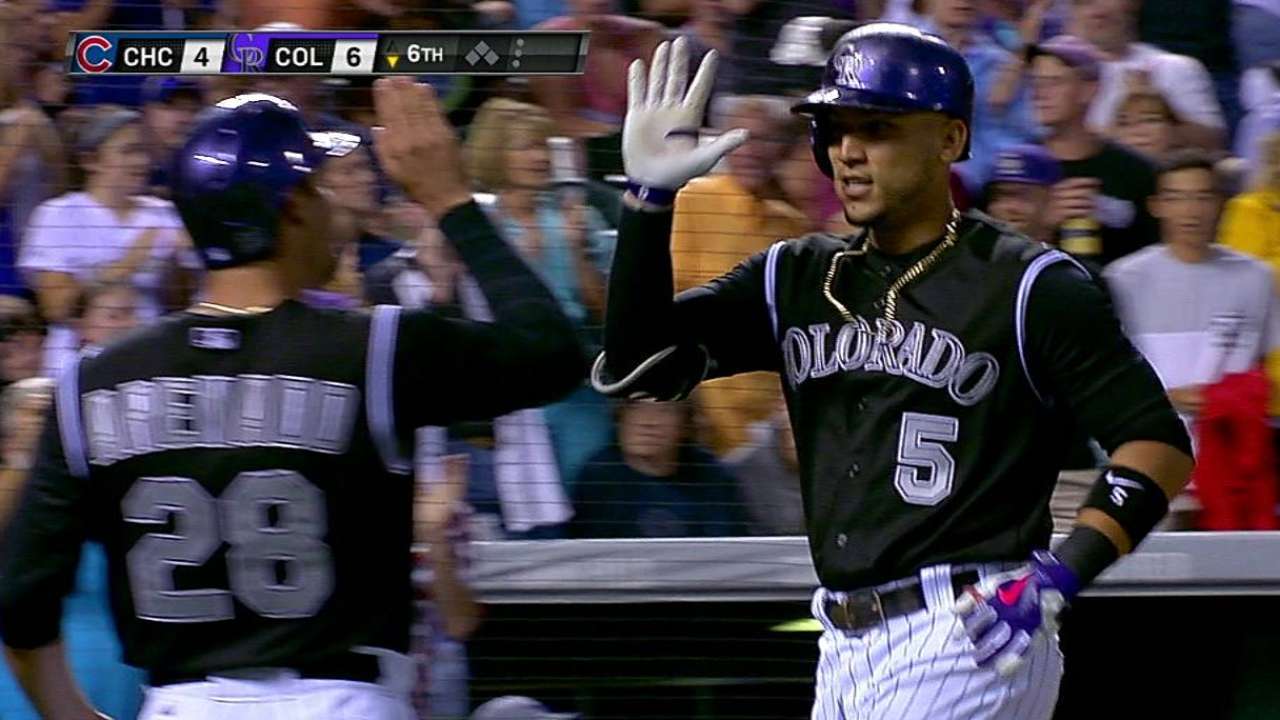 SAN DIEGO -- A Wednesday MRI on the left knee of Rockies outfielder Carlos Gonzalez has revealed more damage than a previous look, so Gonzalez will consult with the team's training staff and doctors Thursday before deciding on a treatment plan.
Gonzalez has suffered from left knee tendinitis since last season, and he was placed on the 15-day disabled list Sunday after seeing his effectiveness dwindle recently. Dr. Thomas Hackett of Frisco, Colo., saw Gonzalez Wednesday and performed the MRI.
Rockies head athletic trainer Keith Dugger said options include surgery or treatments such as plasma-rich platelets or stem-cell therapy. Any option other than rest and rehab will cost Gonzalez the remainder of the season. Hackett, Rockies medical director Dr. Thomas J. Noonan, Dugger and Rockies rehab coordinator Scott Murayama will participate in the consultation.
"It did show some changes from his previous MRI on his patella tendon, meaning that it is getting worse," Dugger said. "The irritation to the area is a little worse off than it was when we did one earlier in the year."
It was more bad injury news for the Rockies, who also announced Wednesday that shortstop Troy Tulowitzki will undergo season-ending surgery to repair a tear in his left hip labrum.
The knee is one of many pains Gonzalez, 28, has experienced this season.
Coming off a 2013 that saw his effectiveness and availability reduced because of a right middle finger ligament strain suffered in July, Gonzalez was preparing for this season when he suffered an appendicitis attack in January.
From the start of Spring Training, Gonzalez battled pain and swelling in his left index finger, and on June 10 he underwent surgery to remove a large but benign tumor. The surgery cost him 35 games. From his July 11 return to Friday night, when he struck out three times in a 5-3 loss to the D-backs and was removed before game's end, Gonzalez batted .188 (12-for-64) with three home runs, seven RBIs and 25 strikeouts.
Additionally, the last two weeks Gonzalez was active he played with a twisted right ankle -- an injury originally suffered in a fall at home but aggravated when he slid to make a catch in foul ground in Detroit on Aug. 1.
Gonzalez missed some starts early in the season with a right calf contusion after fouling a pitch off his leg.
While going through all of the on-field pains, Gonzalez spent much of his time away from the field at a local hospital. His wife, Indonesia, was going through a difficult pregnancy. The couple welcomed twin girls, Carlota and Genova, on June 13. They were born at just 30 weeks. Genova came home after a brief hospital stay, but Carlota did not come home until Friday.
In addition to Tulowitzki, the Rockies have lost right-handed pitcher Tyler Chatwood (Tommy John surgery) and left-handed pitcher Brett Anderson (who will undergo surgery to repair a bulging disk in his back Thursday in Phoenix) for the season. Right-handed pitcher Jhoulys Chacin (right rotator cuff and labrum damage) has begun throwing but it's unlikely he'll return.
That's three-fifths of the rotation plus two All-Star position players. Also, outfielder/first baseman Michael Cuddyer, last year's National League batting champion and an All-Star Game participant, has missed the last 57 games with a fracture in his left shoulder socket. Cuddyer, who missed 25 games early in the season with a left hamstring strain, is playing rehab games and could be back soon.
The injuries are at the top of the list of problems that have sunk the Rockies to 46-74, the Majors' worst record.
Thomas Harding is a reporter for MLB.com. Read his blog, Hardball in the Rockies, and follow him on Twitter @harding_at_mlb. This story was not subject to the approval of Major League Baseball or its clubs.