CarGo to have surgery on left knee on Monday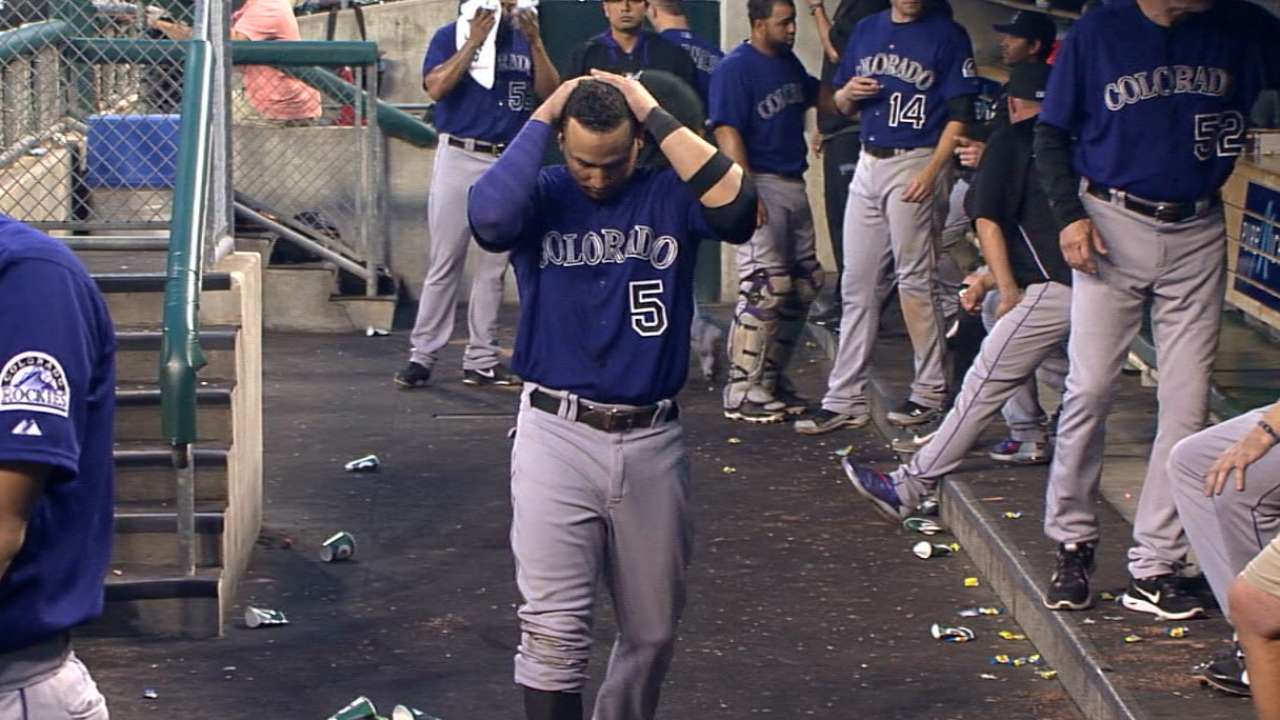 DENVER -- One day after Troy Tulowitzki's season officially came to an end, the Rockies' next injury domino fell Thursday night as the team announced Carlos Gonzalez will undergo surgery on his left patella tendon on Monday.
The operation will be performed by Dr. Tom Hackett in Frisco, Colo. Expected recovery time for the surgery is five to six months and Gonzalez has been told he'll be ready in time for Spring Training.
On Thursday evening, Gonzalez sat down with the Rockies training staff as well as consulting doctors and his agent to discuss all available options. Platelet-rich plasma and stem cell treatments were also on the table, but Gonzalez said doctors informed him those procedures would only make him feel better "for a short period of time."
"Of course, this wasn't something that I was looking for, but I know we're looking for results," Gonzalez said. "We're looking to get something done so I don't have to deal with this."
Earlier in the day, Gonzalez confirmed that Wednesday's MRI showed that his knee has more damage than previously thought with increased irritation to his patella tendon. Doctors have a good idea of the damage, but they won't know all the specifics until they begin the surgery.
Gonzalez has been dealing with dealing with tendinitis in his left knee dating back to last season.
"It was hard for me to sit back and have a leg kick," said Gonzalez, who was batting a career-low.238 through 70 games. "It was even harder to hold all my weight on my back knee."
But after speaking with Ellis Burks, a former Rockie and current part-time assistant coach, Gonzalez has confidence he'll be able to regain his All-Star form post-surgery.
In 1995, Burks had the same operation performed on his knee while playing for the Rockies. The next year, he had his finest professional season with 142 runs scored, 40 home runs and 32 stolen bases.
"I talked to players that have had this done before like Ellis," Gonzalez said. "He told me the year he was suffering he had a really bad year, but he got it done and the very next year he put up big numbers … That's something that keeps me positive."
"He's going to come back with a vengence," said Burks, who finished third in National League MVP voting following his surgery.
Gonzalez was placed on the disabled list with this knee injury on Aug. 10 and he also missed more than a month earlier this season after undergoing finger surgery to remove a benign tumor in June.
In 18 games since returning from the finger injury, the former All-Star was batting .188 (12-for-64) with 25 strikeouts as he also worked through an ankle ailment on top of his knee woes.
Since his breakout campaign in 2010, Gonzalez has only been able to log more than 128 games once in a season. Although manager Walt Weiss wasn't sure of the final decision earlier in the day, he seemed resigned with Gonzalez being shut down.
"I think that everyone felt like that might be the case -- that we might not have [Tulowitzki and Gonzalez] for the rest of the season, so it's not too much of a shock," Weiss said before his club's 7-3 victory over the Reds. "We all felt like that was one of the scenarios and unfortunately, that's what it's going to be."
Cody Ulm is an associate reporter for MLB.com. This story was not subject to the approval of Major League Baseball or its clubs.