Morales a late scratch as he awaits birth of child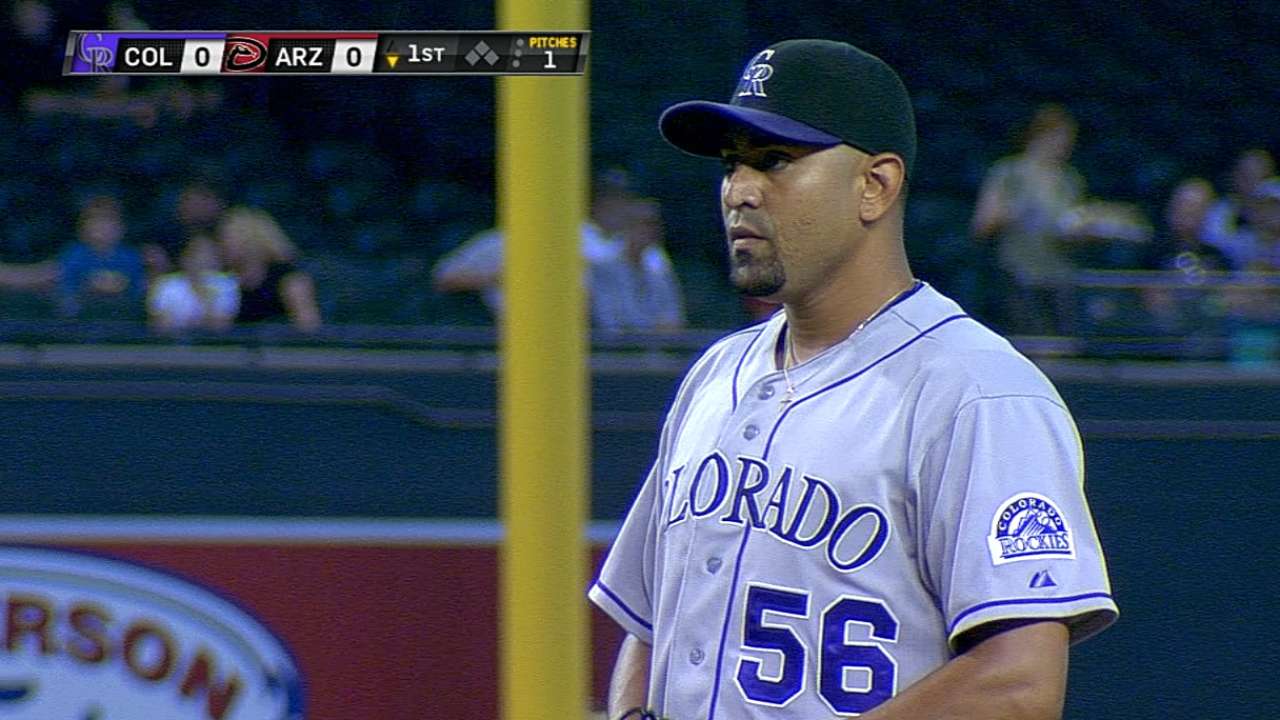 DENVER -- Left-hander Franklin Morales was a late scratch from Fridays' scheduled start against the Reds as he is now expecting the birth of his child. In his place, the Rockies started right-hander Matt Belisle against right-hander Johnny Cueto.
"Franky's wife is in labor so we're going to improvise," manager Walt Weiss said. "Fortunately, [Jorge De La Rosa] going as long as he did last night gave the bullpen a break. We're in decent position to get through this game."
Weiss learned of the news as he was driving to the stadium around 1 p.m. MT and the situation didn't allow the Rockies an opportunity to bring up an emergency arm from Triple-A Colorado Springs.
"It just happened too late," Weiss said. "The Triple-A club was on the way to Sacramento and there just wasn't enough time to get somebody in here."
Weiss is hoping that Belisle can get through three innings and his cap will be "in the neighborhood" of 45 pitches. Belisle's starting experience with the very same Reds team he'll be facing off against played into Weiss' decision.
"That was the thought that went into it," said Weiss of Belisle, who will be making his first start since May 25, 2008. "Matty has been a starter, the first half of his career really. The other guy out there obviously is [right-hander Juan] Nicasio but he's only had one day off after pitching two innings so we're not really going to get a whole lot of length out of Juan."
Belisle's last outing came Monday, when he tossed two outs against the Padres. In 49 1/3 innings this season, Belisle owns a 4.93 ERA with 58 hits allowed compared with 33 strikeouts. Belisle has seemed to turn a corner as of late, though, with a 1.93 ERA over his last 11 appearances dating back to July 22.
Weiss has a rough idea of the pitchers he'll use to patch nine innings together tonight but nothing is "etched in stone."
"I have in mind the four guys who I'd like to get through about six or seven innings with but not exactly sure the order yet," Weiss said.
As for the plan for Morales moving ahead, the Rockies aren't sure if he'll be available Saturday. If he is, Weiss will use him in relief to protect what's sure to be a ravaged bullpen.
If Morales needs more time away, the Rockies could also put him on paternity leave, which would free up a roster spot while making Morales unavailable for three days.
Cody Ulm is an associate reporter for MLB.com. This story was not subject to the approval of Major League Baseball or its clubs.