Tulo hopes surgery helps prevent leg injuries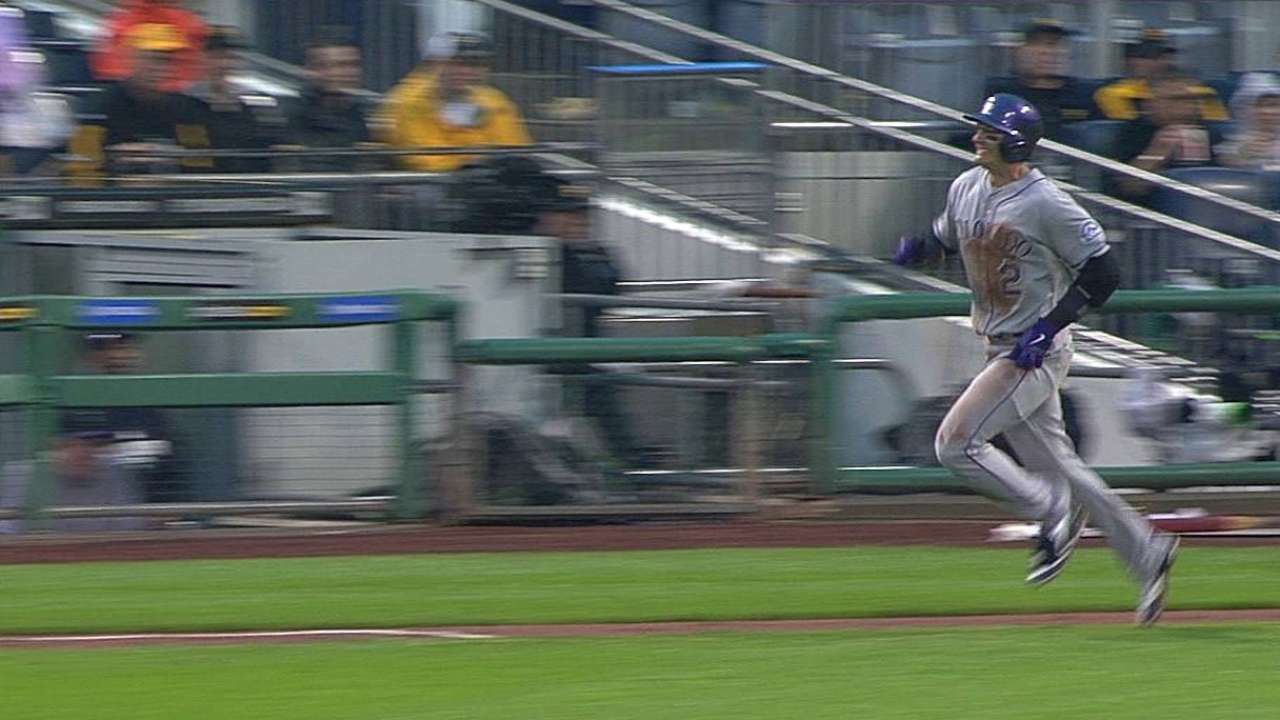 DENVER -- Unless something happens to change his address, shortstop Troy Tulowitzki is in for a long and productive career with the Rockies -- as long as he avoids injury. In many ways, Todd Helton lived Tulowitzki's future.
Tulowitzki has something else in common with Helton now -- surgery to repair a torn labrum in his left hip. However, Tulowitkzi had it Friday at age 29, at a much earlier stage than Helton, who had it at the end of his next-to-last season, 2012, when he was going on 39.
Both Helton, whose jersey No. 17 is being retired Sunday, and Tulowitzki, tried to play through the labrum tear long before deciding on surgery.
"Todd and Tulo were similar and we both knew that they had the tear; I can say it now," said Rockies head athletic trainer Keith Dugger said. "A lot of times, guys have them, but when it's symptomatic and it gets to that point, then you do something about it.
"With Todd, you could see him out there, even on defense, when he was a little bit limited. He couldn't get over that pinching sensation. He also had a little bit of a groin strain in there. The [surgery] helped take away a little bit of his back pain."
So by getting it fixed with plenty of good years left, Tulowitzki and the Rockies hope this means not only increased health in 2014, but less of a risk for the leg injuries that have been nearly a constant throughout Tulowitzki's career.
Tulowitzki's latest injury, which occurred July 19 while running to first base after putting a ball in play during a game in Pittsburgh, was a left hip flexor strain. Tulowitzki knew all along the labrum was torn, but he was hoping the hip flexor would heal enough to allow him to play through the labrum issue. But when Tulowitzki felt hip pain whenever he ramped up his activity, it was a clear sign that he couldn't put off fixing the labrum.
Now Tulowitzki can spend the winter rehabbing the hip without dealing with an underlying injury. It doesn't mean concern about leg muscle injuries will go away, but it's best to have the area fixed as much as possible.
"You always have a little bit of instability, but there are plenty of professional athletes who take care of the tears and have very successful careers and have no issues," Dugger said.
Dugger also said that it won't be clear exactly what is going on in the left knee patella tendon of outfielder Carlos Gonzalez until doctors conduct their surgery Monday.
"We call it neurotic tissue -- it's the part of the tissue has either been torn, or split and it's just kind of chewed up and mangled," Dugger said.
Also, Dugger said the Rockies will be conservative with left-handed pitcher Brett Anderson, who had surgery Friday to repair a large-size ruptured disk in his lower back. For the next two weeks, he'll be limited to walking before beginning limited exercise.
Thomas Harding is a reporter for MLB.com. Follow him on Twitter @harding_at_mlb.Cody Ulm is an associate reporter for MLB.com. This story was not subject to the approval of Major League Baseball or its clubs.