MLB.com Columnist
Roger Schlueter
MLB Notebook: Another cycle for Cuddyer
Rockies outfielder produces his second career cycle in his second game off DL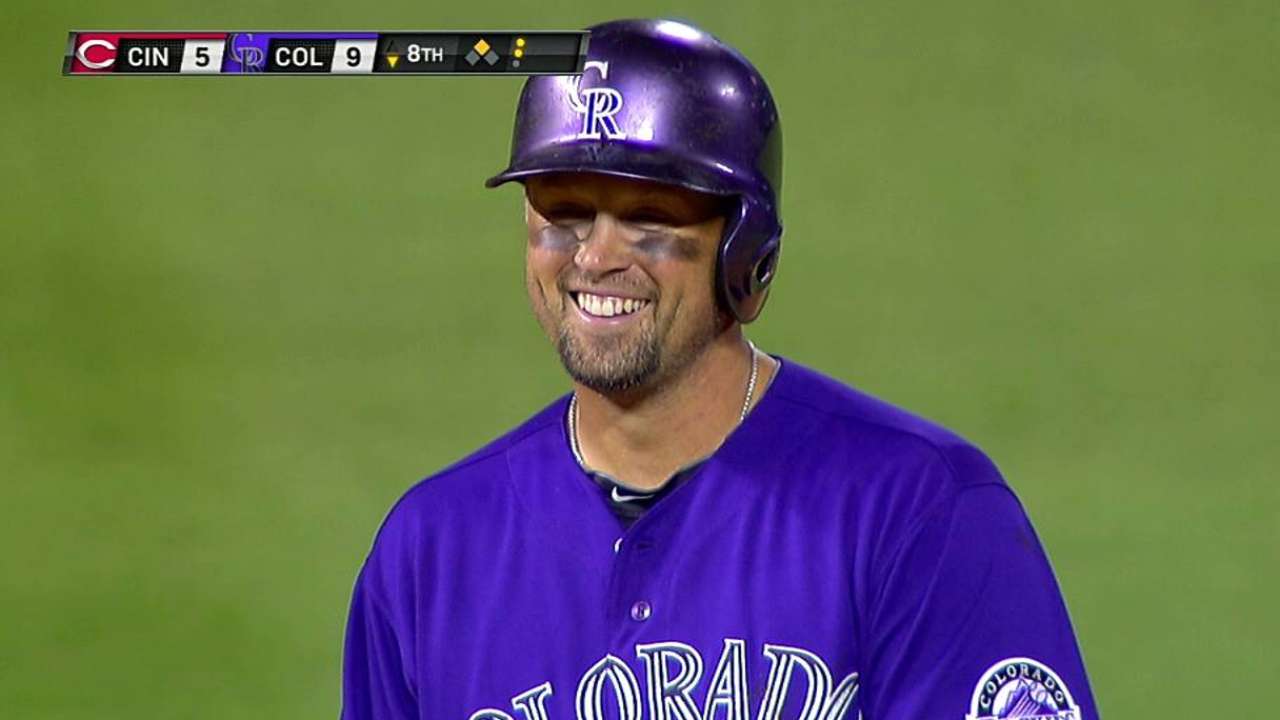 On a day in which Leo the Lip was at short, Pepper Martin was playing third, Ripper was stationed at first and a Dizzy and a Dazzy each took the hill for the Cardinals, the star of the show turned out to be -- with his Cubs teammates Kiki and Gabby looking on -- a Babe.
On Sept. 30, 1933, playing at Sportsman's Park in St. Louis, Cubs cleanup hitter Babe Herman came to the plate six times, and although he didn't collect a hit every time he walked to the dish, he did single, double, triple and homer. It was the eighth cycle of that season -- the most for one year's worth of Major League games -- and it made Herman the only Babe to have three cycles in a career. And in joining John Reilly and Bob Meusel in the tri-cycle club, he also stands as the last to have three. Whatever remains of Michael Cuddyer's career, the 35-year-old will now have a chance to join Long John, Long Bob and, of course, Babe.
In the second game of a doubleheader at Coors Field on Sunday, Michael Cuddyer -- in his second game back after spending two months on the DL -- became the first player in 2014 to hit for the cycle. Cuddyer -- who tripled in the first, homered in the sixth, singled in the seventh and doubled in the eighth -- produced his second career cycle, with the first coming on May 22, 2009, as a member of the Twins.
Cuddyer is the third player to cycle in two leagues, joining Bob Watson (for the Astros in 1977 and the Red Sox in '79) and John Olerud (for the Mets in 1997 and Mariners in 2001).
Cuddyer is the seventh Rockies player to hit for the cycle, joining:
Dante Bichette (June 10, 1998) against the Rangers in Colorado
Neifi Perez (July 25, 1998) against the Cardinals in Colorado
Todd Helton (June 19, 1999) against the Marlins in Colorado
Mike Lansing (June 18, 2000) against the D-backs in Colorado
Troy Tulowitzki (Aug. 10, 2009) against the Cubs in Colorado
Carlos Gonzalez (July 31, 2010) against the Cubs in Colorado
At 35 years and 143 days old, Cuddyer is the 12th-oldest player since 1914 to hit for the cycle:
35-year-olds: Max Carey (1925), Lou Brock ('75), Bengie Molina (2010), Cuddyer ('14)
36-year-olds: Charlie Gehringer (1939), Carlton Fisk ('84), Craig Biggio (2002)
37-years-old: George Brett (1990)
38-year-olds: Bob Johnson (1944), Chris Speier ('88)
39-year-olds: Cy Williams (1927), Dave Winfield ('91)
Cuddyer is the 30th player to produce multiple cycles, and the first since Adrian Beltre, who had his second on Aug. 24, 2012.
The full list: Beltre, Ken Boyer, Brett, Pete Browning, Cesar Cedeno, Fred Clarke, Mickey Cochrane, Joe Cronin, Cuddyer, Joe DiMaggio, Bobby Doerr, Jim Fregosi, Lou Gehrig, Herman (three), Aaron Hill, Chuck Klein, Meusel (three), Tip O'Neill, Olerud, Dave Orr, Reilly (three), Jimmy Ryan, George Sisler, Chris Speier, Mike Tiernan, Arky Vaughan, Watson, Wally Westlake, Frank White and Brad Wilkerson.
Seattle starters are dealing
Chris Young allowed four hits in six scoreless innings as the Mariners defeated the Tigers, 8-1, on Sunday. Mariners starters own a 3.20 ERA and a .228 batting average against.
In the DH era, there have been six American League teams to finish the year with a starters' ERA at or below 3.20: the 1974 Athletics, '75 Orioles, '78 Yankees, '80 Athletics, '81 Athletics and '81 Yankees.
In the DH era, no AL team has seen its starters finish a year with a batting average against at or below .228. Since 1973, there have only been four National League teams to do this: the 1975 Dodgers, '81 Astros, '85 Mets and '86 Astros.
Castro not settling for singles; Arrieta not giving up much other than singles
Starlin Castro's solo homer in the ninth inning -- his 13th round-tripper of the year -- proved to be the difference as the Cubs defeated the Mets, 2-1, on Sunday. Castro has 45 extra-base hits and has driven in 64 runs this season, for an extra-base hit percentage of 8.52 and a 7.66 AB/RBI ratio. In the former category, two qualifying Cubs shortstops in the modern era have been in their age-24 or younger season and finished with an extra-base hit percentage as high or higher than Castro's current mark: Ernie Banks in 1955 and Shawon Dunston in '86. As for the AB/RBI mark, there are five: Joe Tinker in 1903, Billy Jurges in '32, Roy Smalley in '50 and Banks in '54 and '55.
Chicago's Jake Arrieta allowed two singles and two walks in seven scoreless innings. Arrieta -- who is still just shy of having enough innings to qualify for any of the rate-stat leaderboards -- is holding the opposition to a .550 OPS. There have been two Cubs pitchers (who qualified) since 1961 to finish the year with an OPS against no higher than .599: Dick Ellsworth in 1963 (.543) and Greg Maddux in '92 (.552).
Altuve's latest multihit effort includes slam
Jose Altuve hit a grand slam and collected three singles as the Astros routed the Red Sox, 8-1, on Sunday to pick up their 52nd win. With the 52, Houston surpassed its total from 2013. As for Altuve, the second baseman bumped his average up to .339 (173-for-510) with his 53rd multihit game of the year.
Altuve's 53 multihit games are the most for any Astros player through 125 team games, beating out Jeff Bagwell's total from 1993 by one.
Altuve's 173 hits through 125 team games are the most for a Houston player, surpassing Biggio's 157 in 1998. That year, Biggio went on to collect 210 hits for the only 200-hit season in franchise history.
Altuve's 173 hits through 125 team games are the most for any player since Ichiro Suzuki had 184 in 2009.
Peralta, Wainwright notch win No. 15
Milwaukee's Wily Peralta (six scoreless innings) and St. Louis' Adam Wainwright (seven innings, four runs) joined fellow NL Central hurler Johnny Cueto atop the Major League leaderboard in wins, with both picking up No. 15.
For Peralta, he is the seventh pitcher in team history to have at least 15 wins through the club's first 125 games. Jim Colborn (1973), Mike Caldwell ('78) and Teddy Higuera ('86) each had 16. Bill Travers (1976), Larry Sorensen ('78), and Pete Vuckovich ('82) each had 15.
Wainwright's victory improved his overall record to 114-64, for a .640 winning percentage. Among pitchers through their age-32 season, that winning percentage ties Wainwright with Don Newcombe for the 31st highest (minimum 200 starts). Among the 32 pitchers with a mark this high, Wainwright's 131 ERA+ ties him with Sandy Koufax, Juan Marichal and Mike Mussina for 16th.
Lucroy racking up doubles
In the Brewers' win against the Dodgers, catcher Jonathan Lucroy homered, doubled and drove in five runs. Lucroy's double was his 40th of the season, tying Miguel Cabrera for the Major League lead. Lucroy's 40 doubles tie for the 10th most for a catcher all time, and leave him seven shy of Ivan Rodriguez's mark (accomplished in 1996) for the most.
Roger Schlueter is senior researcher for MLB Productions. This story was not subject to the approval of Major League Baseball or its clubs.