Cuddyer scratched with sore hamstring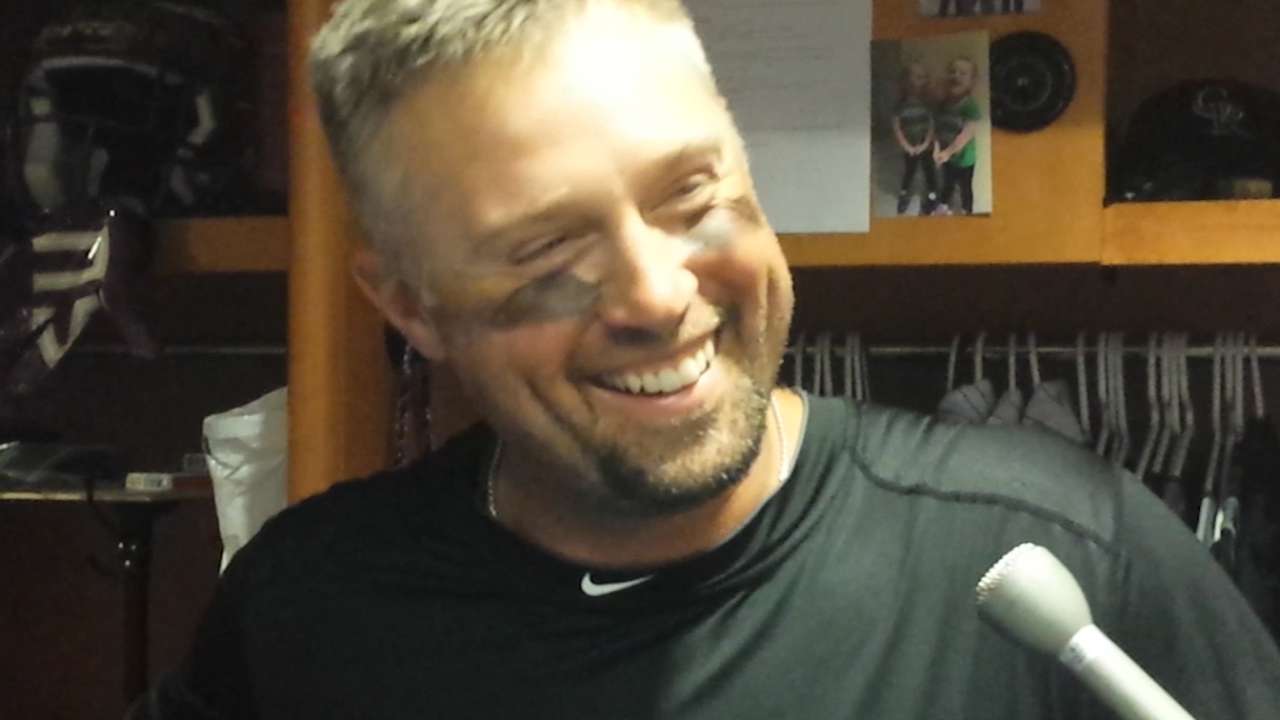 DENVER -- Michael Cuddyer's cycle Sunday night might have been a case of a lot of running too soon.
Cuddyer was scratched from the Rockies' lineup Tuesday against the Royals because of hamstring soreness. Drew Stubbs took his place in the order. Manager Walt Weiss said Cuddyer was available to pinch-hit.
Still, Cuddyer being scratched was jarring for Rockies fans, who watched Cuddyer hit for the seventh cycle in franchise history -- and become the third player in history to have cycles in each league -- during Sunday night's 10-5 victory over the Reds.
Sunday's doubleheader, which saw Cuddyer take 10 at-bats, was his first after missing 60 games because of a fractured left shoulder. Cuddyer also missed 25 games early in the season with a left hamstring strain.
"He took several laps around the bases -- hard laps -- and he came up a little sore," Weiss said. "He had been playing on a rehab assignment, but I think he red-lined the other day. He had to run hard several times."
Rockies head athletic trainer Keith Dugger said Cuddyer told him he could play, but "I don't want to risk -- that's the bottom line."
Cuddyer, 35, is at an intriguing stage. He's in the final year of a three-year, $31.5 million deal. It's not clear if he'll resign. But the Rockies potentially could trade him to a contender in a waiver deal. If he's on another club's roster by Sept. 1, he is eligible for the postseason.
Cuddyer would have to be placed on waivers sometime this month and either clear waivers -- each team, in inverse order of record, has an opportunity -- or be claimed. If a player is claimed, the team can either work out a trade or let that team have the contract. If a player on waivers is not claimed, he can be traded to anyone.
Teams looking for a right-handed bat could make a play for Cuddyer, but they'll need to see him healthy.
Another player who could end up in a waiver deal is righty reliever Matt Belisle, who is 1-0 with a 1.64 ERA in his last 10 outings. Belisle also is a free agent at season's end.
Waivers are a confidential process, so it's rarely revealed when a player is placed on waivers or claimed.
Thomas Harding is a reporter for MLB.com. Follow him on Twitter @harding_at_mlb. This story was not subject to the approval of Major League Baseball or its clubs.