Dickerson considers Morneau his hitting mentor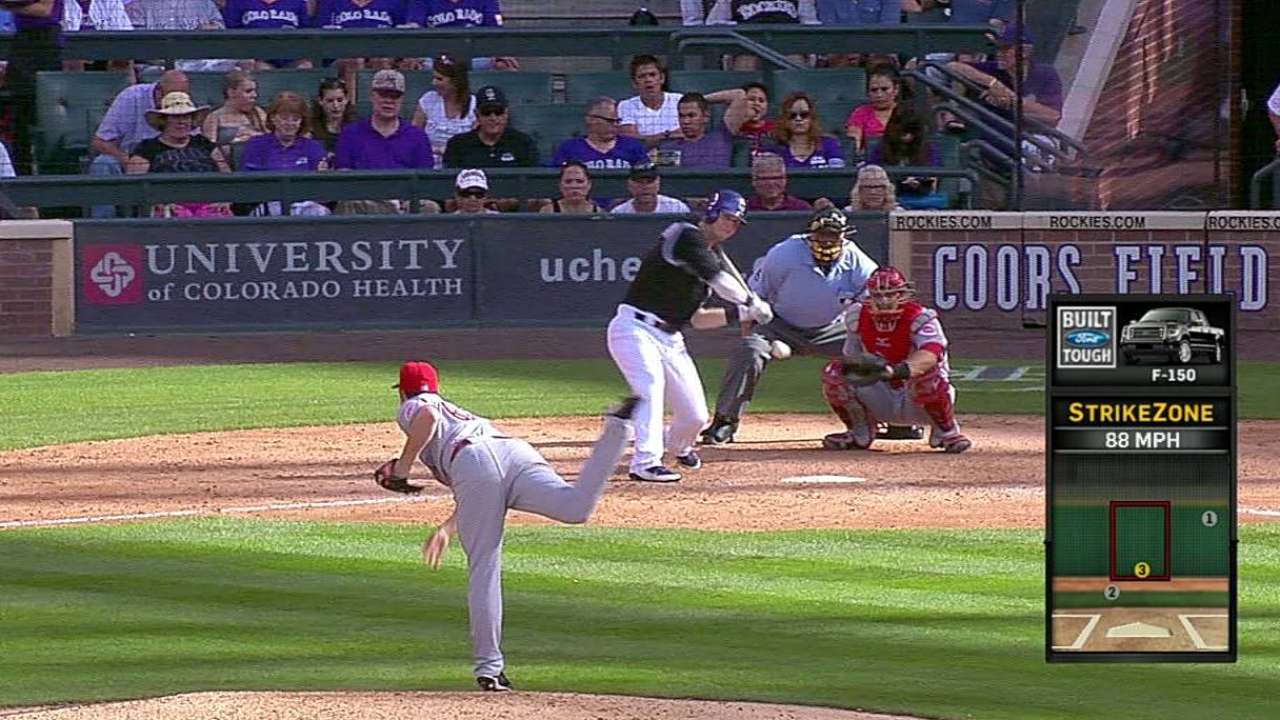 DENVER -- If someone was assessing Rockies outfielder Corey Dickerson's learning style when it comes to hitting, it would be somewhat auditory, meaning he can talk though information. But Dickerson is mostly a kinesthetic learner. In plain English, he learns by doing.
However, he is not a visual learner. He doesn't spend long periods with video, mainly because he isn't wired to pull much out of it. But he has a veteran teacher in teammate Justin Morneau to fill in that gap.
Together, their styles are putting up big numbers.
Morneau entered Tuesday as the official National League batting leader at .323, now that Rockies shortstop Troy Tulowitzki, out for the season because of left hip surgery, has fallen below the threshold of 3.1 plate appearances per scheduled game for his .340 average to qualify to be listed among official leaders.
Dickerson, who spent the early part of the year battling for playing time in a crowded outfield, went into Tuesday batting .326. He had 345 plate appearances in 124 games (2.78 per game). If Dickerson stays hot and healthy, he has a chance to battle with Morneau -- at least average-wise.
Dickerson, 25, views Morneau, 33, as a mentor.
"I don't think it's a competition at all -- I feed off him," said Dickerson, the reigning NL Player of the Week. "I like to ask questions every day about what the pitcher has. He puts in work studying pitchers. I like to pick his brain. He's one of the guys I look up to on the team. It's just trying to be the best we can."
Morneau and Dickerson are left-handed hitters, but there are differences in their styles. Morneau has a distinct plan that allows him to take the pitcher to the pitch he wants. Dickerson's aggressiveness sometimes takes him to pitches low or outside, but his hands are so direct to the ball that he can hit these pitches hard.
While Morneau's adjustment during an at-bat is mental and the swing stays the same, Dickerson has a spread-out, two-strike approach (sometimes with a shorter leg kick, sometimes with no stride), which he sometimes goes to before two strikes, but can hit with power out of the adjusted stance.
Morneau enjoys Dickerson's confidence.
"He's one of those guys that anytime he's hitting, I don't want to miss him," Morneau said. "It looks like he feels like he can hit a homer every time up."
As Morneau's career progressed, he streamlined his study habits to being able to pinpoint what the pitcher wants to use in certain counts. He has shared that information with Dickerson. It's just enough to guide Dickerson without paralyzing him with information.
Dickerson earned NL Player of the Week honors at a time when, with Tulowitzki and Carlos Gonzalez out with injury and with Michael Cuddyer having returned from injury Sunday, opponents are paying special attention to him.
Advice from Glenallen Hill, his manager at Triple-A Colorado Springs, also is helping him stay a step ahead.
"I told him once, 'Sometimes I feel like the catchers know me, they know what I'm going to swing at,'" said Dickerson, who understands that the guy calling pitches is almost as important as the guy throwing them. "He said, 'As long as you go up there with your approach, it doesn't matter who's back there or who's pitching.' So I don't care what the pitcher or catcher think. I just adjust as quickly as possible.
"To help, I watch film a little bit with [Morneau] and pick his brain. I'm not a huge film guy because I'd rather trust somebody that's played and has a lot of success."
Thomas Harding is a reporter for MLB.com. Follow him on Twitter @harding_at_mlb. This story was not subject to the approval of Major League Baseball or its clubs.