McBride returns to starting lineup in grand fashion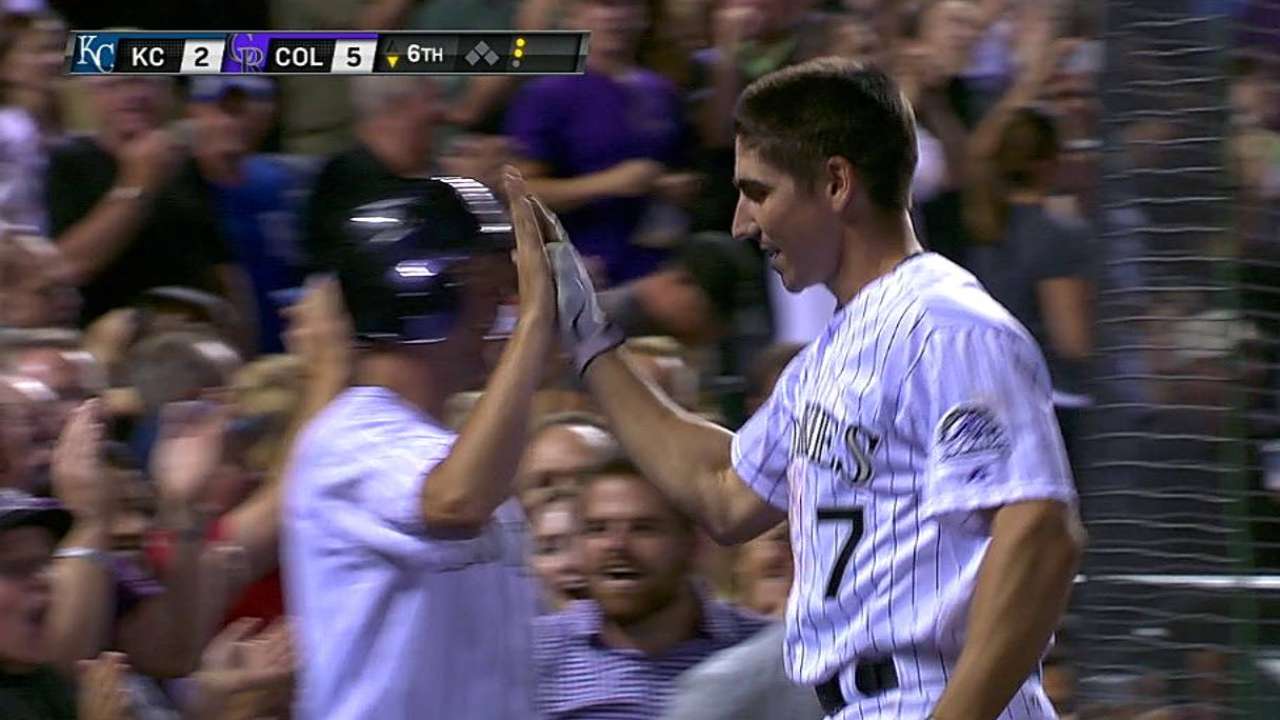 ENVER -- The Rockies' Matt McBride rounded the bases with enthusiasm -- and without incident -- Wednesday night.
McBride, whose contract the Rockies purchased from Triple-A Colorado Springs on Tuesday, celebrated his first start Wednesday by clubbing a sixth-inning grand slam off Royals starter Danny Duffy. The swing was the difference in Colorado's 5-2 victory. It was the first career slam for McBride, who last played in the Majors in 2012.
"It was a great feeling," McBride said. "I was excited that we got the lead right there, and just excited I was able to get my pitch, get the barrel to it and hit the ball hard."
In this year of numerous and odd injuries, McBride got his out of the way long before he arrived in Denver.
On April 11, a bone in McBride's right foot broke when he was between first and second, while rounding the bases -- after hitting a home run. Of course, that wasn't the entire story.
"Before it completely broke, I was hit by a pitch," said McBride, who started Wednesday in place of left-handed hitting Justin Morneau, because Duffy had held lefty hitters to a .138 batting average this season. "A lefty threw a fastball and I tried to get out of the way, and it hit me on the top of my back foot. Later, doctors said I probably had a stress fracture from that. But it was sore, and I didn't think it was anything other than a bone bruise.
"But four days later, I hit a home run, and between first and second, I felt a pop. It was worse than I originally thought."
McBride, 29, continued to hit after he healed. He batted .305 with seven home runs and 35 RBIs in 51 games for Triple-A Colorado Springs. His 0-for-1 performance as a pinch-hitter Tuesday night was his first big league action since 2012, when he batted .205 in 31 games. Last year, McBride hit .328 with 15 home runs in 48 games at Colorado Springs, but suffered a neck injury that required spinal fusion surgery.
Manager Walt Weiss tested McBride mostly as a catcher in Spring Training (.333, three home runs in 20 games). McBride has played more first base and in the outfield corners.
"He's a good hitter, another one of the guys that's really persevered to get back here," Weiss said. "Whenever he's been healthy, he's been a very good hitter."
McBride is one of a crowd of first baseman-corner outfielders hoping for a chance with the Rockies, who have plenty of quality at those spots. McBride continues to catch occasional bullpen sessions just in case he is needed there.
Any time the phone rings, it's a chance to claim a Major League career, but he has a level-headed approach.
"Whenever you come up there, you're trying to make it your chance and make a positive impact, help the team win," McBride said. "Anytime you come up here, you've got that same attitude."
McBride came from the Indians at the 2011 non-waiver Trade Deadline. He is the last player the Rockies have from the deal in which they parted with their former pitching ace, Ubaldo Jimenez.
"I'm not too worried about that; I'm worried about trying to play baseball, like we're all trying to do, just compete," McBride said.
Thomas Harding is a reporter for MLB.com. Read his blog, Hardball in the Rockies, and follow him on Twitter @harding_at_mlb. This story was not subject to the approval of Major League Baseball or its clubs.