Arenado adds to Rockies' weekly awards haul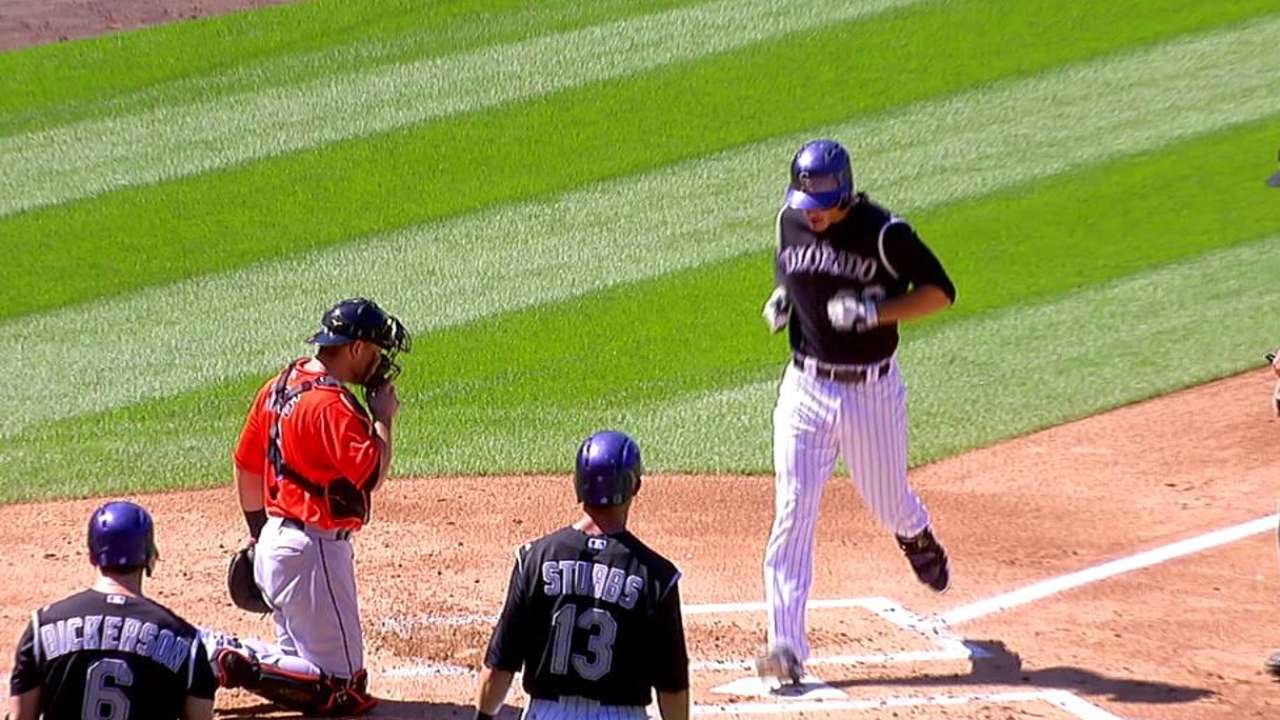 SAN FRANCISCO -- For a team that's sitting in the cellar of the National League, Colorado has been staying remarkably busy collecting awards this season. Nolan Arenado was named NL Player of the Week on Monday, the second straight time a Rockies player has won the award and fifth overall, the most of any team in baseball.
"It's awesome," Arenado said. "Being on a team with one of the worst records in the Major Leagues, to be noticed for something, it's big. It's always cool to be noticed. But ultimately a lot of the credit goes to my teammates and thank God they're helping me out with that."
Arenado accomplished the feat one week after outfielder Corey Dickerson earned the distinction, also joining Charlie Blackmon, Troy Tulowitzki and Justin Morneau.
In early July, Arenado was playing catch-up after returning from a 40-day stint on the disabled list with a finger injury. He wrapped up this past week with a .545 (12-for-22) batting average, seven extra-base hits, including three homers, three RBIs and six runs scored.
"When you take six weeks off, every [pitcher] looks harder," Arenado said. "The month I was struggling, it felt like Spring Training when everyone else was in midseason form. It was tough. ... Lately things have been working out. Not so much that I'm getting hits, but I'm going to the plate and I'm feeling good. I feel like I'm seeing the ball pretty good."
Arenado, who batted .267 last year, has been able to improve his offensive numbers across the board despite missing major protection in the lineup. Rockies manager Walt Weiss said he's been happy with Arenado's production at the plate while Tulowitzki, Carlos Gonzalez and Michael Cuddyer have each missed time with injuries. The reigning Gold Glover at third base has also maintained his stellar brand of defense.
"Nolan had a great homestand," Weiss said. "Some big hits and obviously the defense. You don't win Player of the Week because of your defense, unfortunately. It usually comes out to your offensive statistics unfortunately. He's playing the same stellar defense and swinging the bat. It is good that he's starting to get his due in this league."
Alex Espinoza is a contributor to MLB.com. This story was not subject to the approval of Major League Baseball or its clubs.