Callups available when suspended game continues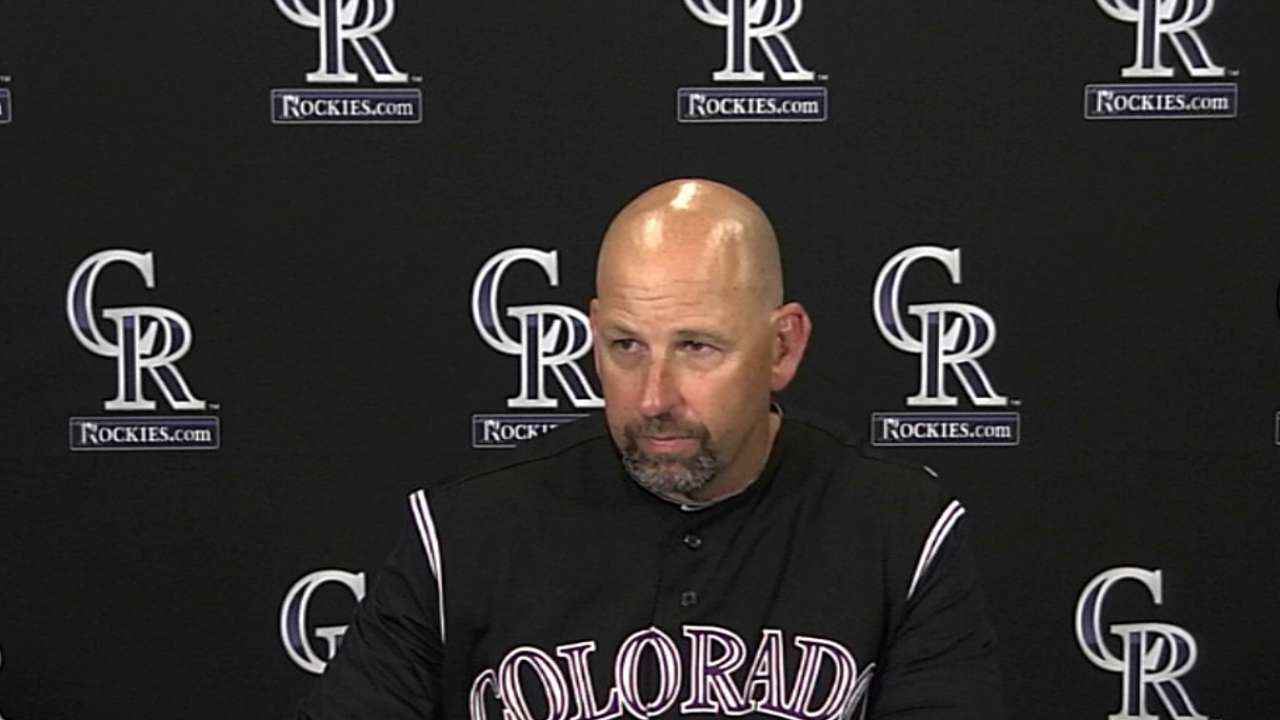 PHOENIX -- The Rockies' coming series with the Giants will eschew a normal three- or four-game schedule and will instead last about three and a half games thanks to a suspended game earlier in the year.
The two teams on Monday will pick up their game from May 22, which was suspended due to rain, with the score knotted at 2 in the bottom of the sixth inning. Because the score was tied and the game was already considered official, the game needed to be resumed.
However, there are complications.
The game was suspended with a Rockies runner on first. The runner, Michael Cuddyer, is currently on the 15-day disabled list with a left hamstring strain, so he will have to be pinch-run for when play resumes.
Two more players, Wilin Rosario and Troy Tulowitzki, will also have to be removed due to injuries. Luckily for the Rockies, they'll have some reinforcements, as they will be allowed to use their expanded 40-man rosters when the game resumes.
"That's a question I had," manager Walt Weiss said. "I wasn't sure if we had to stay with the same roster that we had that day the game was suspended. But fortunately, we're going to be able to use the September callups because if we didn't I don't think we'd have a bench for the game because of all the substitutions we have to make."
Weiss didn't say who he planned to "start" on the mound when the Rockies take the field in the top of the seventh, but he said he was hoping he wouldn't have to burn his bullpen before the second game of the day, which will start 20-30 minutes after the suspended game ends.
"We got to play essentially a game and a half tomorrow, so that's going to affect the bullpen a little bit," Weiss said. "But hopefully we can get through that first game, finish that first game, without going too deep into the 'pen."
Adam Lichtenstein is an associate reporter for MLB.com. This story was not subject to the approval of Major League Baseball or its clubs.