MLB.com Columnist
Jim Callis
Buehler, Bickford headline Cape Cod League pitching prospects
League has sent more than 1,000 players to Majors, including three Hall of Famers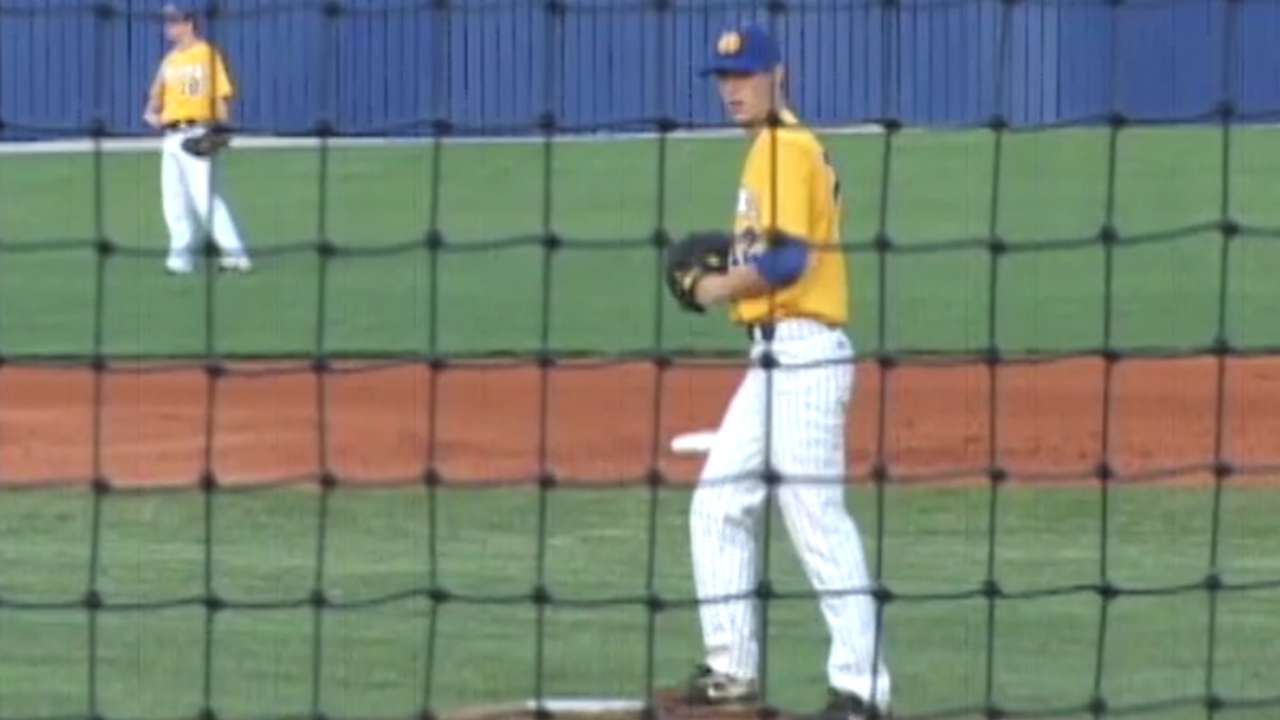 The main business on Cape Cod is tourism, and the second-most productive industry in eastern Massachusetts might be the refinement of baseball players. The Cape Cod League, which traces its roots back to 1885, has been the top proving ground for college players for the last three decades.
The Cape League has sent more than 1,000 players to the Major Leagues, including 220 who have been active this season, among them Josh Donaldson, Evan Longoria, Buster Posey, Garrett Richards, Chris Sale and Chase Utley. This summer, Frank Thomas became the third Cape Leaguer inducted into the Hall of Fame, following Pie Traynor and Carlton Fisk. More talent is on the way, as the 2014 First-Year Player Draft featured 13 Cape League alumni in the first round, starting with Kyle Schwarber to the Cubs at No. 4 overall and Aaron Nola to the Phillies at No. 7.
The consensus among scouts and Cape managers is that the wood-bat league's 2014 crop wasn't as bountiful as usual, though it still should produce several early-round picks in the next two Drafts. There was enough talent among the Cape's 10 teams that we'll rank the top pitchers this week and evaluate the best hitters next week. Pitching was the strength of the league, which is often the case.
1. Walker Buehler, RHP, Yarmouth-Dennis Red Sox (Vanderbilt, Jr. in 2015)
A major part of two championship clubs this summer, he won the College World Series with Vanderbilt and the Cape League with Yarmouth-Dennis, sandwiched around a strong cameo with the U.S. collegiate national team. Buehler shared Cape playoff MVP honors after winning both his starts while not allowing a run in 15 1/3 combined innings. He had the deepest repertoire in the league, featuring a 90-96 mph fastball with sink, a deceptive changeup and a pair of hard breaking balls in his curveball and slider. Buehler could have four solid-or-better big league pitches and throws them all for strikes. The only knock on Buehler is his 6-foot-1, 165-pound frame, but he maintained quality stuff throughout a long college season and summer and has the arm action and athletic delivery to hold up as a starter.
"He was awesome," said Falmouth manager Jeff Trundy, whose team lost to Yarmouth-Dennis in the Cape finals. "He threw like 89 different pitches for strikes and once he got ahead, he got even better. Everything was strikes and he sat in the low 90s all night. What a great arm, and he's still young physically too."
2. Phil Bickford, RHP, Yarmouth-Dennis Red Sox (TBA, So.)
An explosive 90-96 mph fastball got Bickford drafted 10th overall in 2013 by the Blue Jays, but he turned them down (for reasons that never have been made clear) to attend Cal State Fullerton, where he worked with only an average heater this spring. Used in relief on the Cape, Bickford regained his velocity and life, blowing away hitters with a 93-98 mph gas. He allowed runs in just two of his 17 appearances between the regular season and the playoffs, notching 44 strikeouts in 27 2/3 innings. An athletic 6-foot-5, 208-pounder, Bickford throws strikes and shows flashes of developing a plus slider. It still needs refinement, as does his changeup, but scouts have no problem projecting him as a starting pitcher. After scouts voted him the winner of the Robert A. McNeese Award as the Cape's top prospect, Bickford decided to leave Cal State Fullerton so he could enter the 2015 Draft. He has yet to decide whether he'll attend junior college or play in an independent pro league.
"He had the best arm in the league," Chatham manager John Schiffner said. "He threw one of our guys a slider in a big situation, and three kids' knees buckled in our dugout. And that's not even his best pitch, because we saw 97 mph."
3. Kyle Cody, RHP, Wareham Gatemen (Kentucky, Jr.)
Alex Meyer didn't do much in his first two seasons at Kentucky before blossoming into a first-round pick of the Nationals in 2011. The Wildcats have another big-bodied right-hander following the same path in Cody, who had the highest radar-gun reading (97 mph) at the Cape All-Star Game. With a strong 6-foot-7, 245-pound frame, he generates premium velocity with little effort and maintains it into the late innings. Cody lacks consistency with his low-80s slider and changeup, but he improved his command of his secondary pitches this summer.
"He really stepped up," said Wareham manager Cooper Farris, who had Cody on his club briefly in 2013. "He kept hitting 95-96 mph and he'd sit at 94 in the sixth and seventh inning. He does it easy, there's no labor to it. He's got a feel for what he's doing now."
4. Cody Ponce, RHP, Brewster Whitecaps (Cal Poly Pomona, Jr.)
His story is similar to Cody's, as Ponce is a big-bodied right-hander with a power arm who hasn't dominated in his first two college seasons and needs work on his secondary pitches. He sits at 91-94 mph and touches 96 with his fastball, though it tends to straighten out and thus gets hit more than its velocity would suggest it should. While Ponce is still looking for a reliable second pitch, he did make progress with a cutter that's a better option than his slurvy curveball, and he's not afraid to throw his changeup.
5. Alex Young, LHP, Falmouth Commodores (Texas Christian, Jr.)
No Cape left-hander had as much upside as a starter as Young, who spent his first two college seasons primarily as a reliever on loaded Texas Christian staffs. A 6-foot-3, 203-pounder, he has a pair of quality pitches in his lively 90-92 mph fastball and his 78-82 mph slider. Young hasn't used his changeup much, but it does show some promise. He recorded a 1.50 ERA that would have led all starters if he hadn't been a few innings short of qualifying, and his 28/3 K/BB ratio ranked second in the Cape.
"He was the best left-handed starting pitcher in the league," said a scouting director who thinks Young could make a leap into the first round in 2015 like Horned Frogs lefty Brandon Finnegan did this year. "He has three plus pitches at times, though there's a little question about whether he's a starter or reliever. I'm not sure I buy into the delivery and arm action for a lot of innings, though his stuff is very good."
6. Marc Brakeman, RHP, Hyannis Harbor Hawks (Stanford, Jr.)
Brakeman also has spent his first two college seasons mainly as a reliever, and he began the summer in Hyannis' bullpen. He moved into the rotation and posted a 2.00 ERA and 37 strikeouts in 27 innings over five starts (including the playoffs), and he topped the league in strikeouts per nine innings (12.8) while sharing the strikeout lead (47). Brakeman is not imposing at 6-foot-1 and 185 pounds, but he throws three pitches for strikes and can get outs with all of them: a 91-94 mph fastball that he commands well, one of the Cape's better changeups and a hard slurve.
7. Kyle Twomey, LHP, Orleans Firebirds (Southern California, Jr.)
A third-round pick by the Athletics in 2012, he has yet to establish himself as a college starter but made strides this summer. Twomey's stuff essentially is the same as it was when he came out of high school, as he works with an 88-92 mph fastball and a quality changeup but needs to improve his loopy curveball. He commands and manipulates his fastball well, cutting it and sinking it and spotting it to either side of the plate. Twomey has an easy delivery, touches 94 mph on occasion and could do so more regularly once he fills out his 6-foot-3, 170-pound frame.
8. Garrett Cleavinger, LHP, Falmouth Commodores (Oregon, Jr.)
Though he had dominated as a setup man in his first two years at Oregon, Cleavinger wasn't a priority follow for the 2015 Draft because he was a reliever with nondescript stuff. That changed when he repeatedly overmatched Cape hitters with a lively 92-96 mph fastball and a low-80s slider. Between the regular season and playoffs, Cleavinger struck out 33 and walked just four in 15 innings. The 6-foot-2, 220-pounder profiles strictly as a reliever, but he still could go in the first two rounds next June and rocket through the Minor Leagues.
9. Garrett Williams, LHP, Chatham Anglers (Oklahoma State, So.)
The lone member of this list who won't be Draft-eligible until 2016, he first gained notoriety by starring at the 2007 Little League World Series. Williams is a two-way player who could take off if he focuses solely on pitching. A 6-foot-2, 195-pound lefty with an electric arm, he's capable of delivering fastballs up to 94 mph and hammer curveballs, and his changeup shows signs of becoming a useful pitch. Williams lacks command and consistency with all of his offerings, but if he figures that out, he could become a frontline starter.
10. Blake Hickman, RHP, Hyannis Harbor Hawks (Iowa, Jr.)
The Cubs drafted him as a high school catcher in the 20th round of the 2012 Draft, and Hickman was solely a hitter as a freshman before transitioning to a two-way player and then a full-time pitcher this spring. Though he's understandably raw on the mound, scouts love his 6-foot-5, 220-pound frame and power arm. Hickman can run his fastball up to 96 mph and has the makings of a power curveball and a usable changeup. His command is a work in progress, but his arm works well and his delivery is sound.
Jim Callis is a reporter for MLB.com and writes a blog, Callis' Corner. Follow @jimcallisMLB on Twitter. This story was not subject to the approval of Major League Baseball or its clubs.