In wake of injuries, callups prove worth to Rox
Ynoa, Paulsen among group of young talent taking advantage of opportunity in bigs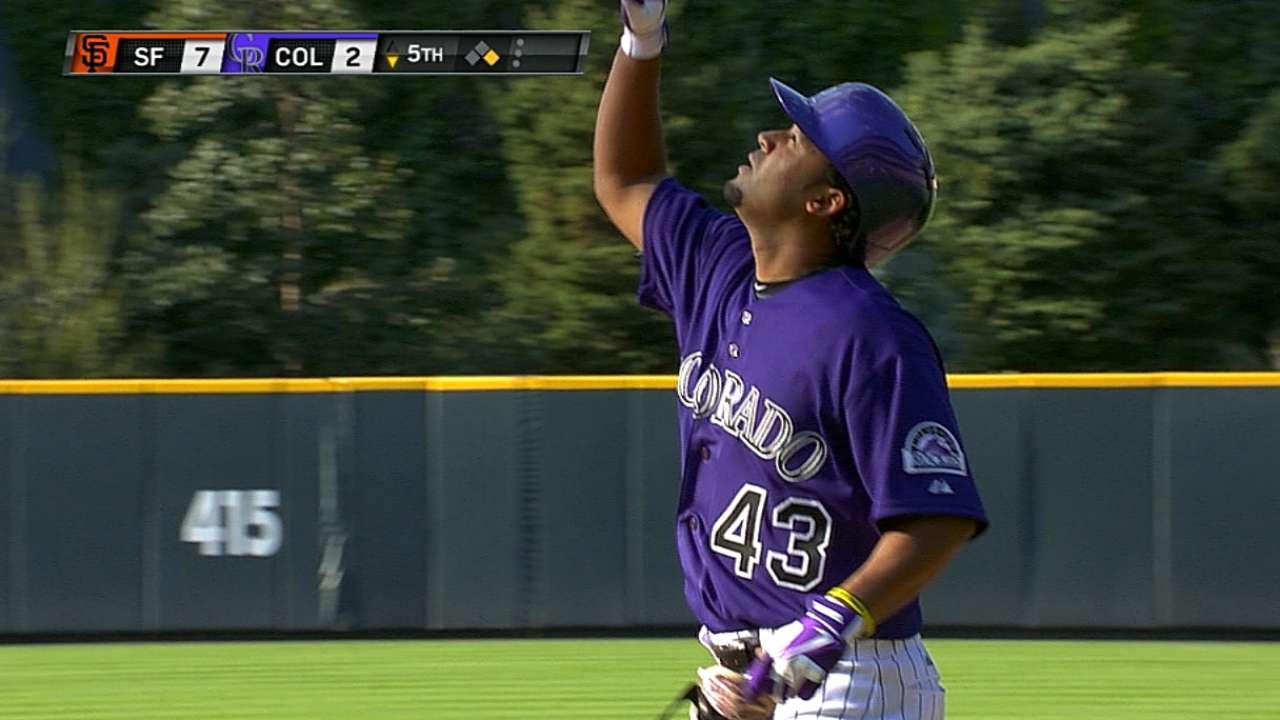 DENVER -- Rather than spend the hours it'd take to rehash what could have been, manager Walt Weiss chose to sum up the Rockies' injury-plagued season in one concise sentence: "It's been September all year for us."
Troy Tulowitzki, Carlos Gonzalez, Michael Cuddyer, Brett Anderson and Boone Logan are some of the many key contributors who have missed months of action for the Rockies this season.
In turn, Colorado has been forced to use 49 players, tied for the most in the National League with the D-backs and Padres. Likewise, it's a figure that's just six shy of tying the franchise record.
So when the Rockies called up six players to kick off the expanded-roster period, it wasn't as much about the new kids on the block as it was about the "welcome backs."
"I think with the exception of [Rafael] Ynoa, all the guys called up have spent some time with us this year," Weiss said. "So, yeah, a lot of familiar faces."
In many respects, this extreme wave of injuries has exposed Colorado's lack of depth. But in the same sense, it has also allowed an opportunity to discover talent that never would have been tapped into if it wasn't for this series of bad breaks.
Take Ynoa, for example. The 27-year-old spent his first eight professional seasons in the Dodgers' system before signing on with the Rockies this past winter. After proving himself at the Triple-A level to the tune of 31 doubles and a .297 average with Colorado Springs, the utility man was added to the 40-man roster on Monday.
Making his long-awaited Major League debut that very same day, Ynoa helped spark a five-run Colorado comeback when he entered on a double-switch in the fifth, finishing 3-for-4 with an RBI. In the process, he became only the fourth switch-hitter since 1974 to earn base knocks from both sides of the plate in his first two big league at-bats.
Ynoa also captured Weiss' attention.
"He's one of those guys that has forced his way into the picture because he's played really well," Weiss said of Ynoa. "He's looking like a baseball player."
Same goes for first baseman Ben Paulsen. Once the possible heir apparent to Todd Helton, Paulsen found himself in Triple-A for his second straight season to start the year after the Rockies signed Justin Morneau.
When Morneau went down with a neck injury earlier this season, Paulsen, 26, didn't waste the opportunity to impress. Nor has he squandered an at-bat since.
In five stints with Colorado this season, Paulsen has gone 16-for-39 (.410) with four doubles, two homers and six RBIs. One of those long balls came in a pinch-hit appearance on Monday to give the Rockies their first lead of the game against the Giants.
With Weiss now firmly a believer of his bat, Paulsen was asked to make his first career start in right field Wednesday after playing the position just four times in his 670-game Minor League career.
"I feel like he's shown an uncanny ability to slow the game down for a young player," Weiss said. "I've been very impressed with his poise, his ability to slow down at-bats and slow down the game."
Of course, seeing how young players rise to the occasion in varying situations is what September is all about for teams in Colorado's position. And Weiss takes it more seriously than most.
"I put more stock in September than I do in Spring Training," Weiss said. "With young players, you just want to see how they handle the stage. … [They're] jumping in and playing against big leaguers in midseason form."
That has meant a trial by fire for pitchers like Brooks Brown and Yohan Flande, who together totaled 18 seasons in the Minors before combining for 65 innings in their Major League debut seasons.
Weiss has acknowledged it's certainly not "impossible" for a player to win or lose a job in September. But even if they don't break camp with the team next year, at least the Rockies know they have more Major League-ready depth.
"With young players, you want to see if there's an awareness there," Weiss said. "If the game is a little too fast, then all that stuff shows up. Obviously we have a pretty good feel for their skill set. It's another thing to go out there in a big league game and help your club to win."
And it certainly doesn't hurt the team chemistry going forward.
"It's nice to know we got some young guys here who can make an impact and help the team win," third baseman Nolan Arenado said. "The future, it seems bright. … Obviously we're not in the greatest place, but the good thing for the young guys in here, we all played with each other coming up. So we have real great chemistry with each other. The experience level, we don't have it like we would with Tulo and CarGo. But our chemistry is good with the young guys. They want to play hard and they want to win."
Cody Ulm is an associate reporter for MLB.com. This story was not subject to the approval of Major League Baseball or its clubs.